How to Stay Safe At Backyard Summer Parties & 4th Of July Celebrations
We're all well aware of how we'd normally celebrate independence day. Potlucks with delicious homemade dishes, yummy punches, lemonade, and other refreshing beverages. Great music. And of course, all of your closest friends and family. But, how do you do all of this during the COVID-19 pandemic? Here are some tips on celebrating the 4th of July safety, if you choose to do so.
1. Skip the Buffet – Find Volunteer Servers
Designate one individual (in a mask and gloves!) to serve and plate meals. Eliminate self serve bowls, desserts, etc. The fewer hands in the pot, the better. We've incorporated chef action stations at events and this could be a very similar aspect. Have a volunteer, who's healthy and preferably has been tested for COVID-19 recently serve up your mains such as hot dogs and cheeseburgers or if this person is a kitchen wiz, try a pig roast! Just be sure this person is wearing gloves and a mask.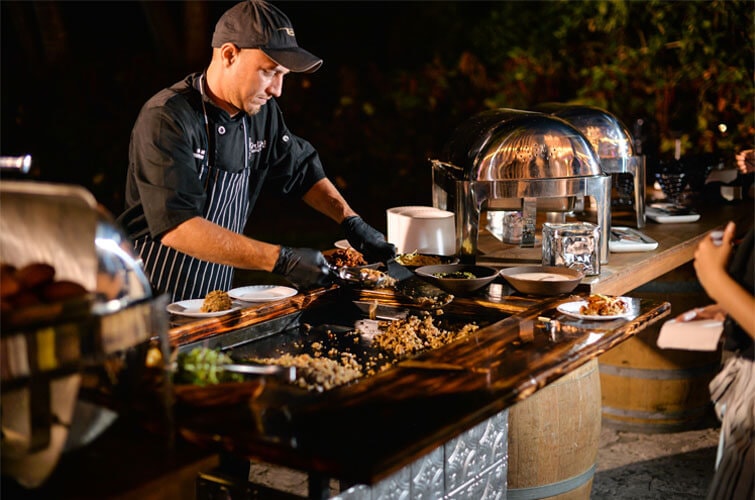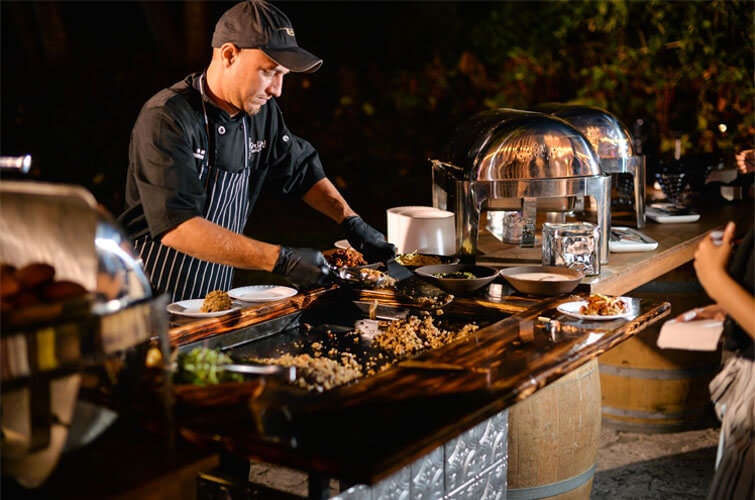 2. Space Tables 6′ Away From Each Other & Sanitize
Offer a variety of seating and tables throughout your backyard or event space. Be sure they are spaced a minimum of six feet from each other and have a sanitizer bottle on the tables. Red, white, and blue soap dispensers work great to get rid of those ugly sanitizer bottles. Designate a volunteer to wipe down the chairs and tables throughout your celebration. People from the same household should be assigned to their table for eating, so they can comfortably take off their masks to eat.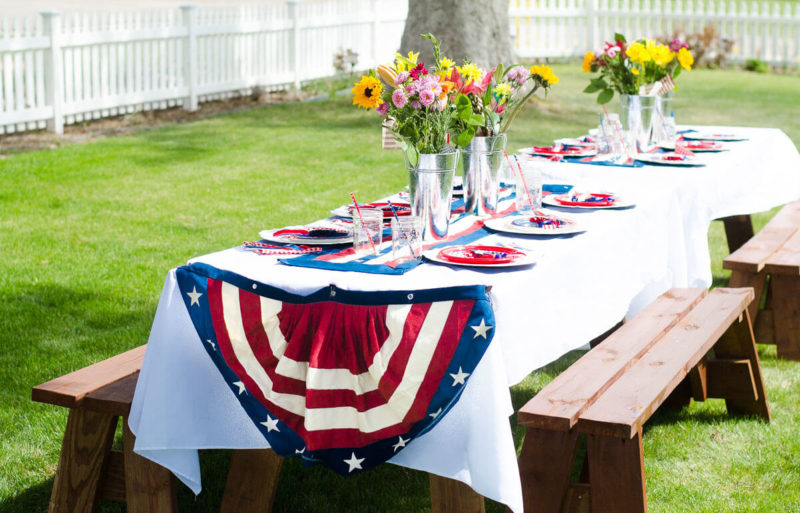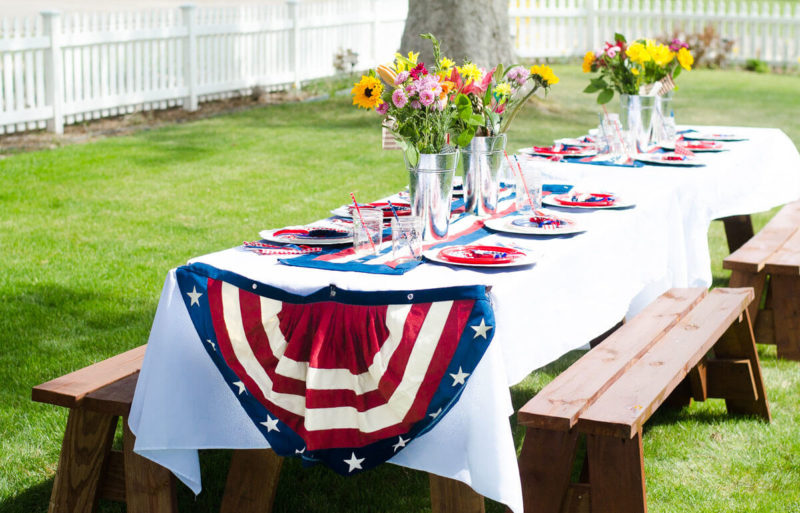 TIP: Skip the cloth linens and use vinyl or place a transparent vinyl cover over your cloth linen so it can be wiped down easily.
3. Add Safety & Physical Distancing Signage.
Print out themed signage reminding guests to use sanitizer upon arrival before entering your home or backyard along with signage reminding guests to wear a mask and stay physically distant from non-immediate friends and family members.
4. Rent Hand-Washing Stations & Maybe Portable Restrooms
If you're hosting a 4th of July Celebration, consider renting a handwashing station and portable restrooms to keep guests from entering your home to use the restroom. Of course, make sure to have sanitizer readily available near and high touch points and games too.
5. Offer Individual Silverware Mason Jars
Take the time to put together individual silverware, straw, and napkin mason jars that can double as the individuals' drinkware. Put these together a couple of days before your celebration, sanitize them and box them up until you are ready to distribute them.
6. Give away red, white and blue face coverings to guests
There are a lot of face coverings available on the market now. Order red, white, and blue masks in bulk and give them away to guests as they arrive if they don't have one. Your guests will be comfortable knowing you're putting in the extra effort to keep everyone safe.
7. Keep Cooler Lids Open + Don't Overload Coolers
Minimize the time guests' hands are searching through coolers by spacing beverages out inside and then pouring ice over. Label coolers based on what's inside to cut down on unnecessary handling of items.
8. Set A Clear Schedule & Communicate Ahead of Time
Be sure to inform guests that the celebration will be outdoors only, except for bathroom breaks. Communicate safety procedures before guests arrive so they know what to expect. In this schedule, be sure to set a specific time for when food will be served. This way the volunteer cooks get to enjoy the party too. Ask guests for their input but make sure to decide ahead of time what items are non-negotiable, such as wearing a mask when mingling. Ask the point-blank, "Can you respect these rules, and are you healthy enough to join us?"
9. Prepackaged Food & Individual Serving Sizes
Buy individual serving sizes, like variety chip bags, so people can easily grab and go, and place extras on each household table. If guests are bringing food, encourage them to bring store-bought items and hold off on home-made until next year.
10. Determine Guest Count Based on Yard or Event Space Size
The size of your celebration should be dictated by how many people can safely fit in your yard six feet apart. Make sure to abide by local state and county regulations around social gatherings.
11. Use Fire Pits Strategically
A fire pit is the perfect focal point to bring guests together at a safe distance.
Place chairs before guest arrival and write a note on the back asking that it not be moved.
12. Firework Safety
If multiple people are lighting fireworks, be sure to separate each person's fireworks and have separate lighters for each individual. Don't share lighters. For viewers, be sure chairs are all spaced six feet from one another. For general water, grilling, and firework safety guidelines, be sure to visit the Red Cross info page here.
Overall, accept that this year's Fourth of July will be different. If this feels like a lot, remember the goal of this celebration is to stay healthy while reconnecting with friends and people you love safely. The safest way to celebrate currently is virtual. Click here to view our 5 Ways to Pivot Your Special event During COVID-19.