A mastermind group is full of speakers and entrepreneurs who meet regularly and seek feedback from each other. Members of these groups set out to challenge each other and propose new ideas. These groups set goals, design a plan for achieving them and discuss the challenges and success that arose throughout the process.
You can use these groups to sharpen your business strategies and hone your personal skills. Some large groups incorporate guest speakers or allocate time for separate events, but the main focus is to engage in meaningful discussion. Rather than coaching or mentoring each other, team members give constructive feedback and take turns offering individual ideas and experiences.
Table of Contents
What Is a Mastermind Retreat?
Mastermind retreats are events for entrepreneurs who share a common interest. Sometimes members pre-establish the group, and other times, members don't meet in person before the conference. Either way, those who attend the retreat collaborate and share ideas. These events are typically small-scale to provide a more personalized experience. The goal of a mastermind conference is to give those in attendance actionable advice.
Since the pandemic, many mastermind retreats have moved online rather than meeting face-to-face. Although this can still be an excellent forum for discussion, it doesn't offer much time for personal connections. It can be easy to end a conversation earlier than you want to simply because the timer has run out. In-person retreats have an element of personalization and fun that virtual meeting spaces cannot create. If possible, plan for your members to convene in person.
Mastermind Retreat Schedule
The topics and conversations at these conferences are typically in-depth and require a lot of thought and discussion. For this reason, mastermind retreats are usually all-day or multiday events scheduled months before the meeting.
The day usually starts with a group breakfast before moving into a mastermind session. There's usually a group activity after lunch and another fun event following dinner after the sessions are complete for the day. Although some mastermind retreats are solely dedicated to professional discussion, most successful conferences will allow for personal connections and conversations that span outside of the business world.
Typically, each day has two 90-minute sessions with a 15-minute break in between. These sessions should discuss business ideas, growth areas, recent innovations and anything else that can benefit the group. Each session grants the time to get individual feedback and orchestrate focused conversations about strategies, disadvantages of plans, business developments and new perspectives on topics. The time to share personal stories or dive deeply into a conversation that came up earlier in the day is during group activities and after the end of the sessions.
Tips for Planning Entrepreneurial Events
Planning a conference involves creating a unique experience that everyone will benefit from. Explore new perspectives and create an environment that is exciting and fun. Find ways to make your retreat stand out above the others and encourage conversation — even during presentations — by asking direct questions.
You should keep your guest list small. To encourage productive conversation that everyone participates in, you should have enough members to promote lively discussion and avoid having so many that some don't get the opportunity to speak.
The little details can make or break your experience. Thought-out meals, reliable transportation and seeking out late-night conversation spots will enhance the productivity of your conference. Consider hiring a professional with project management services to ensure you don't miss these minor details.
Location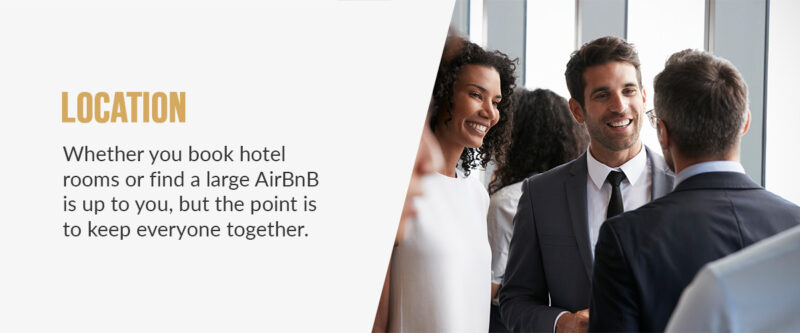 The location of your event is just as important as the nearby locations to continue your discussions. You want your event to be far enough away from the hometown of all members where possible. Distance will eliminate distractions and interruptions from people outside of the group.
If you're hosting a weekend-long event, you want everyone to stay in the same place. Whether you book hotel rooms or find a large AirBnB is up to you, but the point is to keep everyone together. Doing so will encourage discussions after the day has ended and allow for late-night or early morning discussions that might not happen otherwise.
Choosing a location with a unique touch is a good idea too. If you're entirely unfamiliar with the area, do some research ahead of time to discover fun things to do, local bars to sit at or late-night restaurants to visit. Doing so will pique the interest of the group members and encourage the conversation to expand beyond the event times.
Menu
Tasty meals and signature cocktails make excellent opportunities for conversation. Crafting a complete and unique menu can create a welcoming environment that everyone comfortably enjoys. You can make all your meals, reserve tables at restaurants or create a fun combination of both so everyone can experience an array of food.
If you're planning to book your stay in a more remote location, you could offer to cook throughout the weekend. A nice barbecue or potluck can spark personal conversations and open the floor for continued discussions. On the other hand, making time to sit down with reservations can add a professional touch, and your team may appreciate the ambiance.
Make sure you put together a menu that will please everyone. This may mean offering various types of food or proposing substitutes for dietary restrictions. Reach out to everyone before the event and ask if there are any allergies or preferences that you should consider.
Fun Events
The fun doesn't stop once your mastermind sessions are over. Find fun activities to do with your group. You could suggest a hike, tour of a brewery, attend a seminar or any other activity that will encourage a relaxing environment for productive conversation.
You don't need to plan every minute of your retreat, and allowing for downtime will be well received. Some of the best conversations happen when you aren't expecting them. Plus, getting to know your team outside of a business scope will create stronger bonds between members and encourage recurring conferences.
Treadway Events for Entrepreneurial Conferences
Treadway Events is a full-service event planning company that strives to exceed expectations and bring your visions to life. We take charge, create buzz and implement designs that leave attendees wanting more. For a perfect intimate retreat, trust our experience in corporate event planning to make your event a success.
We know that mastermind retreats are a fantastic way to build community with others in your industry, and we want you to be able to focus on those thoughtful discussions rather than figuring out the little details. That's what we do. We know we can create an unmissable event with creative development, event production and project management services that will make your team even more excited about attending.
Contact Treadway Events and let us take care of all the little details so you can focus your efforts on the topics and conversations you're going to strike up.