If you're searching for your next event's destination, Seattle offers just about everything you could want. The city is full of vibrant culture and must-see marvels, and your guests will love the ease of access that comes with its close proximity to airports and lodging. Seattle venues are also some of the most varied and adaptable for all event types and styles.
Table of Contents
Why Choose a Seattle Event Venue?
When you choose from one of the many Seattle event venues, you're guaranteed:
An unbeatable view: Seattle is a unique and balanced blend of all the forests, mountains and picturesque water that make up the Pacific Northwest with the charm of a seaside city skyline.
Access to endless amenities: No matter what neighborhood your event is in or which parts of Seattle your group is eager to experience, one thing is certain — you'll enjoy endless restaurants, breweries, cafes, shops, museums, parks, markets and so much more.
Easy travel accommodations: Vendors and attendees won't have any trouble making their way to the city. Seattle is home to Seattle-Tacoma International, King County International and Renton Municipal Airports, each with easy access to hotels and rentals spanning all types and budgets.
The Best Event Venues in Seattle
The city has no shortage of event venue options, whether you're planning a corporate retreat, conference or large-scale private event. You can take your pick of sites ranging from traditional to professional spots or opt for something more offbeat to fit your vision. These are some of our top recommendations:
Fisher Pavillion
Fisher Pavilion is a 12,500-square-foot facility offering sweeping views of the International Foundation and Queen Anne Hill from the building's glass facade and roll-up doors. Choose an indoor event or add the property's additional spaces to your event plans, including the South Fountain Lawn and Fisher Rooftop, a 19,000-square-foot plaza at street level.
Reception capacity is 2,000, while banquet and theater capacities are 610 and 1,370, respectively.
Bell Harbor International Conference Center
Bell Harbor International Conference Center is a 100,000-square-foot waterfront venue with 180-degree views of Seattle's most picturesque spots, like Mt. Rainier, Elliott Bay and the Olympic Mountains. The building recently underwent a multimillion-dollar renovation, making the layout more flexible than ever for your conference, meeting, tradeshow or fundraiser.
Bert & Tot Ballroom
Bert & Tot Ballroom sits on the upper level of a charming Bell Street building and leans into the area's natural light with three sides of windows in the event space. The ballroom combines high-end finishings and artistic touches with the boldness of industrial chic design, perfect for events where your brand's image and style need to tell a distinct story.
The indoor area allows for 350 seated guests and 359+ standing guests, and you can also take advantage of the private landscaped courtyard for additional options.
The 101
The 101 is less than 20 minutes from the airport. Within walking distance of premier hotel accommodations, so your event attendees won't have to travel far for your workshop, conference, award ceremony or other private events. Rental packages are fully customizable to your event and include setup seating for up to 200 people and a 12-hour security guard on staff.
AXIS Pioneer Square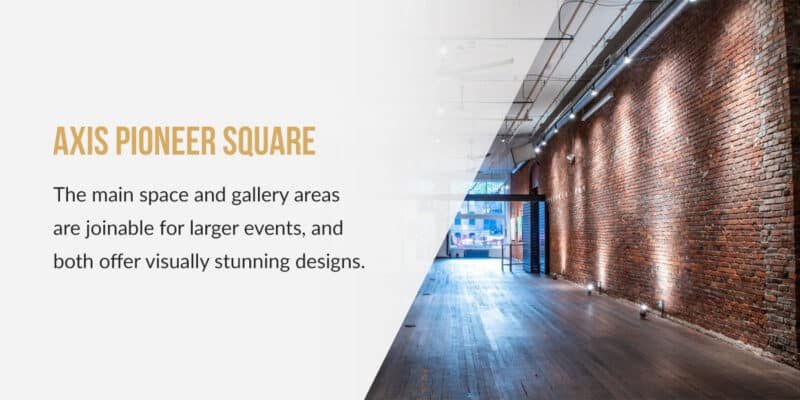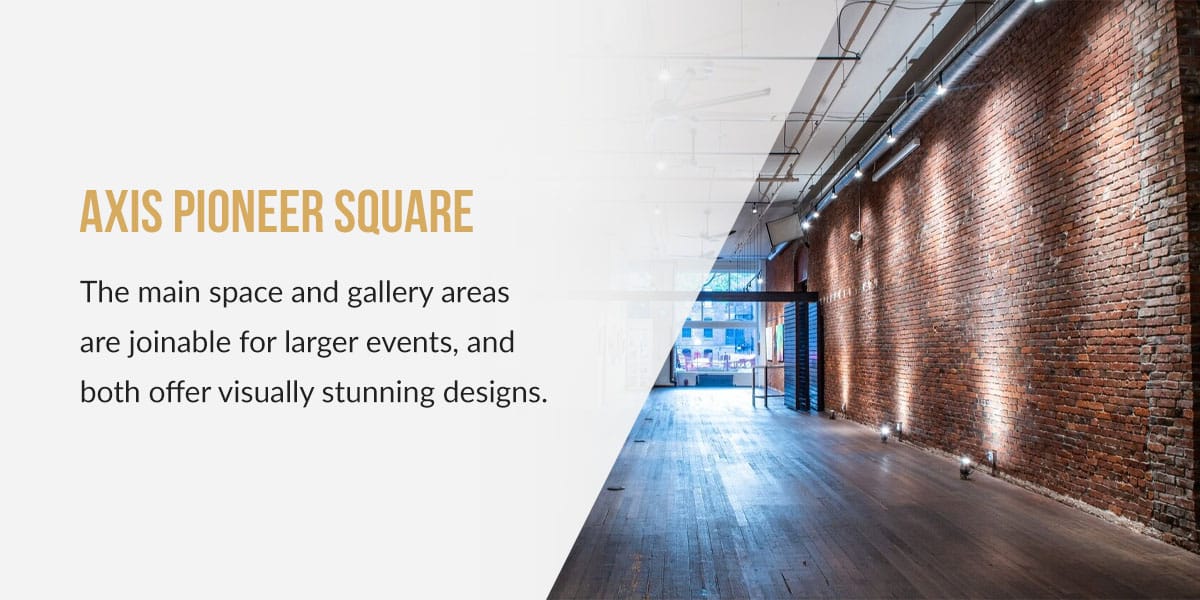 AXIS Pioneer Square is a historically preserved 10,000-square-foot event space housed in the 1890 Globe Building, the former home to Elliot Bay Book Co. The main space and gallery areas are joinable for larger events, and both offer visually stunning designs with antique wood floors, industrial-modern accents, glass wall dividers and exposed brickwork. Most of the interior layout, including walls and bars, can be rearranged to create a one-of-a-kind setup for your event.
The building is also no stranger to special occasions — it's been the site of everything from fashion shows and celebrity welcome parties to a recreation of Bill Nye's laboratory.
Cathedral
Cathedral is unlike any other corporate event space, as it's Seattle's only event venue that donates 100% of its profits to your choice of featured charity. The 4,000-square-foot historic building offers a two-floor layout and is located on Ballard Avenue in Historic Ballard. Exposed brick, marble and artistic finishes create an unforgettable backdrop for any private or corporate occasion.
Downstairs accommodates 65 guests, while upstairs can accommodate up to 105.
Fremont Foundry
Fremont Foundry, located in the center of the Fremont neighborhood, is a modern-industrial facility with 20-foot ceilings in the sky-lit atrium and a rooftop terrace with unmatchable views of North Seattle's finest. The interior boasts plenty of open space for easy conversation and flexible layouts, and you can make use of the outdoor courtyard for even more adaptability.
The atrium accommodates 225 seated and 335 standing, while the theater can seat 200. The rooftop space entertains 125 seating or 250 standing.
Chihuly Garden and Glass
Chihuly Garden and Glass sits in an expansive building right beside Seattle's iconic Space Needle, but the true showstopper is the 100-foot-long dramatic glasshouse structure housed inside the facility. The Exhibition and venue also include eight galleries and a landscaped garden with sculptures.
Seattle Aquarium
Throw the corporate event of the year while playing a part in the Seattle Aquarium's mission to inspire marine conservation. The Aquarium's Ackerley Foundation Puget Sound Hall — located on Pier 59 by Elliot Bay — accommodates up to 800 guests and features live fish exhibits and an expansive 20-by-40-foot window showcasing the picturesque waterfront outside.
WithinSodo
WithinSodo leverages all of the style and views of its Sodo neighborhood surroundings and offers a little bit of everything for your next event. You can rent the lounge and ballroom, the gallery or bundle both options for larger events. You'll also have access to the fully furnished 3,000-foot outdoor rooftop deck with a fully-enclosed bar, covered fireplace lounging area, heat lamps and a skyline view to remember.
Interior designs in the Gallery and The Mirror Room feature original wood floors, while the Ballroom boasts a bar service window and a nearby Lounge with a VIP room and a projection area with AV setup. All in all, WithinSodo includes four configurable rooms spanning up to 1,400 square feet in the largest and a total of three built-in bars.
Contact Treadway for Full-Service Event Planning in Seattle
Seattle's extensive and versatile list of corporate venue options makes the city ideal for your upcoming event, and Treadway Events can help take it to the next level. We are a full-service experiential event planning agency with a proud portfolio of turnkey event planning for a range of clients and industries. We specialize in immersive branding and themed productions for private and corporate affairs, whether that's your next launch celebration, convention, retreat, conference or beyond.
We'll do all the work for you, handling every detail from planning and project management to creative concept development, live execution, event marketing and more. Not sure where to start? We'll even help you choose the best event space in Seattle for your unique vision. Contact us today to learn more and set up your free event consultation!