Corporate events are an integral part of fostering community in the corporate world. A corporate event planning checklist is vital. Events, whether B2B or B2C, provide a unique opportunity to connect the brand with its audience in ways unobtainable through traditional marketing.
For some corporations, hosting employee appreciation events such as milestone celebrations, IPO anniversaries, and holiday functions are what keeps employees engaged and willing to go above and beyond because the company appreciates them.
However, being able to create innovative, intriguing, and experiential events is getting tougher every day as technology evolves and as companies, such as Treadway Events, raise the bar.
Planning events for 25 people can be a big undertaking, and present particular challenges to small internal teams, let alone creating one for thousands of attendees. It might drive you and your team "I-am-going-to-pull-all-my-hair-out" crazy.
To help avoid burnout and uncertainty during event planning, we've put together this "How to" Corporate Event Planning Checklist to help get you started planning your next big event.
Before you dive into it, know that this is just a template that will need to be modified based on the specific type of event you intend to plan. Feel free to reach out to us if you need help planning your event.
Follow our extensive corporate event checklist template to ensure you get your corporate party planning perfect from the start.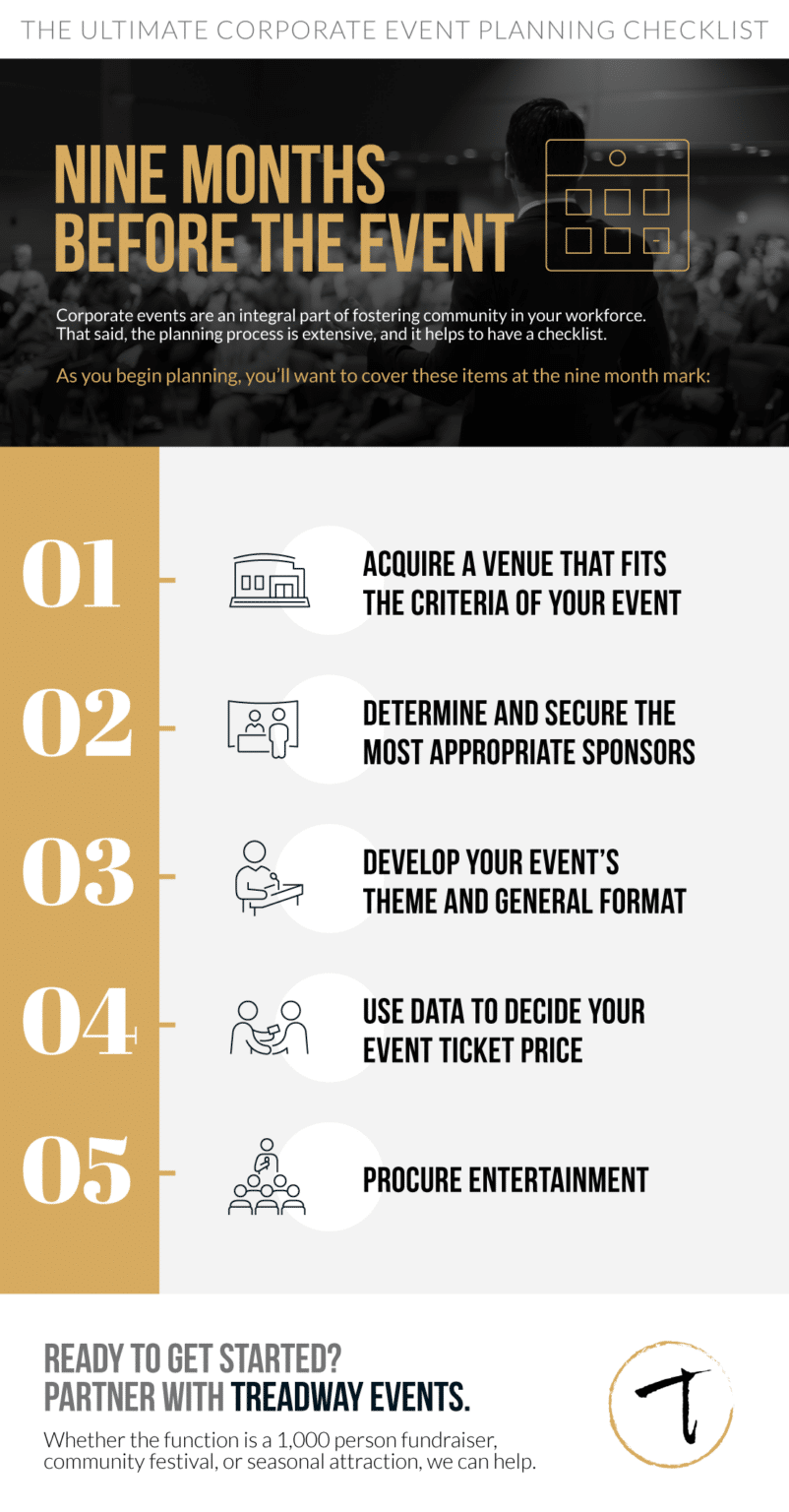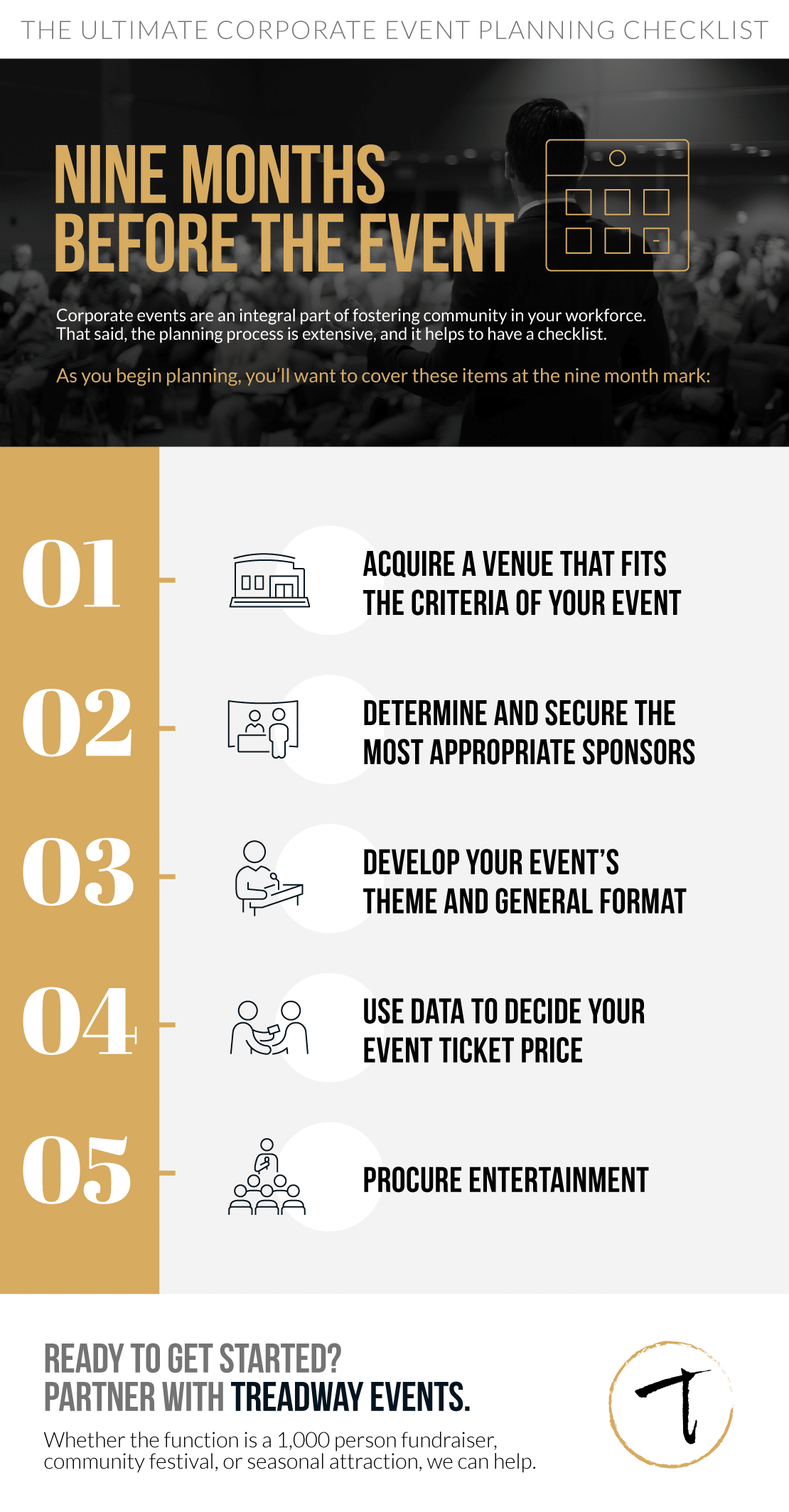 9-12 Months Before the Event
Make sure to accomplish the following tasks between nine months and a year before the event.
Define Your Event Goal and Objective
Defining precise goals and objectives for your corporate event is a vital first step. It sets the basis for decision-making and ensures alignment with your company's vision. Articulating your event's purpose effectively communicates it and allows for measurable triumph.
Start by deciding your primary goal, such as launching a product or enabling collaboration. Then establish clear and measurable objectives using the specific, measurable, achievable, relevant and time-bound (SMART) framework. For example, if your goal is to strengthen client relationships, an objective could be securing 20 further business partnerships during the event.
Involve key stakeholders to secure realistic and aligned goals. Regularly revisit and evaluate goals during planning, making adjustments as needed. This sets the scene for a purpose-driven and thriving event contributing to your company's growth.
Set an Event Date
You can't plan an event without a date! If you can't determine an exact time yet, get tentative holds from your vendors for 2-3 preferred dates and then confirm them immediately once you know you make your selection. Keep in mind any holidays, vacations, closures, etc. when setting this date. Look at community calendars and school schedules to make sure there won't be any interference with your company event.
If it's a conference or meeting you're planning, make sure there aren't other schedules for the same weekend in your area. You'll end up paying premiums for vendors and venues. Also, just because you've set your date and sent out one email, don't think you can wait to plan everything else until you're a month out. Get movin' on it all right now.
Establish Your Desired Audience Size
Set up a meeting with all of your event stakeholders and marketing team. Discuss the objectives and the overall "why" of the event. Determine how large of an audience you'd like to attract. For intimate celebrations and holiday functions, you may have a specific workgroup on one night and another on a different evening if your overall workforce consists of thousands of employees.
An important part of event planning is making sure your audience size will fulfill all of your event goals.
Create a Venue Shortlist
The first task item on your to-do list should be reaching out to prospective venues that fit the criteria of your event. (i.e., you wouldn't want to host a company gala at a chic wedding venue unless it precisely aligns with your vision and goals.)
Write down a shortlist of 7-8 ideal event venues that offer everything you need and don't want to outsource. If you know you don't want to work with a catering company, search for an event venue that offers in-house catering services. Typically, you'll save a good chunk of your corporate event budget because these venues rely on food and beverage minimums–venue fees could be discounted.
Be very aware of what you can and cannot do in space. If you have a preferred decorator or DJ, make sure there won't be any exclusivity issues with the venues preferred vendor options.
Schedule venue tours to narrow down your selection. If you can't make a decision, draw out a pros and cons list to help guide your event planning process. Think about the location and travel time for your guests. Make sure it's accessible for the type of audience you are planning to accommodate.
Create a Speaker Shortlist
You're going to create another shortlist of your preferred speakers for your program. More than likely, your ideal candidate will NOT be available unless you are planning your event 2-3 years ahead of time. Your favorite industry maestros are just as busy as you are, if not more so—plan on contacting them to set up video interviews a good while before the event.
Thoroughly research your preferred speakers. Check references and make sure they have experience in the topic you'd like them to discuss. Gather as much information online and offline to narrow down your decision. Once again, keep your event goals in mind. Perhaps ask yourself how a speaker may affect the audience mantra or how it may affect attendance.
Organize Food and Beverage for Your Corporate Event
Don't run out of food! One of the most crucial aspects of your event and the one thing that guests look forward to the most is your food and beverage. Not choosing the right F&B selections could be detrimental to your event's Success and earning new business.
A professionally crafted menu that is in line with your event demographic, style, and expectations helps project a sophisticated image of your company and increases guest satisfaction. The food and beverage options you choose for your corporate event are important when it comes to giving your event attendees an unforgettable experience.
The best corporate event planners always use top caterers in their area, and they don't skimp on the catering budget! Most catering fees are comparable to local restaurants in your area. If you are paying for a seventy-five dollar meal at a local steakhouse, you can expect that your caterer's options will resemble a similar quality for that price per person. A big mistake people make when planning events is thinking that just because they are ordering "bulk" meals, the price should go down. This isn't the case. Behind all of those meals are chefs, bussers, bartenders, and many more service staff in charge of making sure you don't run out of food and that it stays fresh. For an 800 person event, all-inclusive catering fee's with alcoholic beverages provided will range around $95,000.00 for higher quality service.
Refine the Attendee Experience
At this stage of the planning process, it's essential to focus on refining the attendee experience for your corporate event. This involves carefully considering the various elements contributing to a memorable and engaging event for your guests. Paying attention to these details early on ensures a seamless and enjoyable experience that aligns with your event goals and objectives.
Personalized welcome: Create a warm and personalized welcome for your attendees. Consider including personalized name badges or welcome packages with valuable event materials, such as agendas, maps and exclusive event merchandise.
Interactive sessions: Enhance the engagement level of your event by incorporating interactive sessions. This can include workshops, panel discussions and breakout sessions where attendees can actively participate and contribute their ideas.
Networking opportunities: Facilitate influential connections among attendees by organizing structured networking sessions or networking activities. Provide designated areas where guests can interact, exchange ideas and build professional relationships.
Unique entertainment: Plan for exciting and memorable entertainment options that align with your event theme. This could include live performances, keynote speakers or interactive experiences for attendees.
Thoughtful refreshments: Ensure a delightful culinary experience by offering a myriad of food and beverage options that cater to diverse tastes and dietary preferences. Consider incorporating local flavors or signature dishes to add a distinctive touch.
Refining the attendee experience early in the planning process can lay the foundation for a successful and unforgettable corporate event and make the planning smoother closer to the date.
Set Your Corporate Event Budget
Great! You've decided upon two of the most critical and money-extensive parts of your event. Your next step is to ballpark your event budget within a realistic budget that (once again) aligns with your goals. Hiring a professional corporate event planner can help you maximize your budget.
Make sure there is room for a contingency. There will always be an unexpected expense that comes up, whether it is an event logistics expense like extra rental tables or a last-minute event permit; that's all of a sudden required.
Take some time to think about your event budget and what should be included thoroughly. Include everything you can think of that may be required—pens, raffle tickets, valet tips, guest parking fees, event team mileage reimbursement, etc..
Prioritize Attendee Health and Safety
This article was posted during the 2020 COVID-19 pandemic. From this point forward, guest health and safety should be at the top of your priorities. Create an emergency action plan that outlines procedures for high-risk issues such as an active shooter or possible COVID-19 case all the way to low risk items like an intoxicated guest. Your event team and your outsourced security (if hired) must know what to do in stressful situations. Think about sanitation during the event. Be sure to have an abundant supply of hand sanitizer, masks, and other PPE supplies on hand if things go south. Think about adding sanitizer stations throughout the event area.
Make sure you're on the same page with your venue regarding these issues as they'll play an active role in most situations.
Treadway Events recommends all of our clients hire security professionals for their events over 25 guests.
9 Months Before the Event
The following steps should take place at least nine months before your planned event.
Procure Event Sponsorship
Create an event attendee persona. You may have already done this in the audience size section of this plan. Think about who your audience is, their interests, and what kind of sponsors they may be interested in. Knowing these details will help you create a list of prospective companies or products to reach out to regarding sponsorship opportunities for your event.
Next, determine the goals and objectives of said prospective sponsors. Survey them before opening up conversations about sponsorship opportunities. Please, do not create a tiered sponsorship package and bulk mail it. Create custom proposals to send to each sponsor and focus on higher dollar amounts. Your plan will take you some time, but the overall ROI will be much higher. Make sure your sponsor's interests align with yours; otherwise, the partnership won't last.
Develop Your Theme and Event Format
Determine the overall theme and format of your company event by hosting brainstorm sessions with your core event stakeholders and committee members. Your ideas could affect your venue, sponsor, and menu decisions so that you could tackle this earlier in the planning process.
The events overall theme and format will make it easier to create your marketing strategy. Will this be a day-long event? Will it take place over an entire weekend or maybe the whole week?
You could incorporate best practices in the industry, emerging trends, areas of development, etc. Along with the event theme, it is also essential to decide which format you would host your event. Is it going to be large seminars or fireside chats? Maybe a tradeshow? Determine the form, then move onto the theme.
What will attendees see once they're on-site? What kind of decor, what color patterns, what type of furniture, and props? Will the colors consist of your company branding and logos?
Make sure your theme enhances the visual perception of the event and doesn't take away from the Success. Make sure it's perfectly aligned with your objectives and expectations of event attendees.
Start drafting up a site plan that shows where everything should be located. How many staff are in each area, the number of seats in a specific space, etc.
Calculate Ticket Pricing
At this stage in planning a corporate event, you are in an excellent position to fix your event ticket price. Like all other aspects discussed above, it should be based on real and authentic data.
Much do similar events cost? What value are you delivering to your attendees? How many sponsors have you managed to secure? What benefits are you offering them? What would be unique takeaways for your attendees? Write these down clearly on a large whiteboard when deciding the ticket price.
Research time again! How much do other events similar to your cost? What is your minimum break-even point, and how much of a profit would you like to make on each guest? Is there enough value to justify the ticket price? Write this all down on a large whiteboard when determining your rate.
If you're planning a free event, think about how much you'll charge guests for drinks, raffles, etc. These are all critical things to consider that can make or break your event.
Schedule Entertainment
Don't let your attendees get bored. Keep them intrigued by a variety of entertainers throughout the event. From escape artists to aerialists and live bands, Treadway Events can help you determine the best style of entertainment for any corporate event.
As always, make sure you spend some time looking into the reviews, referrals, and portfolios of your preferred performers to make sure they won't affect the quality of your event negatively.
Make sure to get a written agreement outlining both parties' responsibilities and work with an attorney to identify any critical language such as refunds, COVID-19 issues, etc.
Book the Vendors
Determine who you'll need to hire to pull off a successful event. We highly recommend working with a professional event planner for the entire planning process to guarantee a successful and profitable event.
The most common vendors you'll probably need are lighting providers, A/V companies, an event rental company, photographers and videographers. If you're in the Portland, OR area, we highly recommend Fireside Media. Of course, you'll need a catering company and perhaps a valet provider depending on the style of your event. These are just a shortlist of possibilities. The list goes on!
Reach out to your preferred vendors, set up an event overview meeting, and then an on-site walkthrough once more of your event details are finalized.
I think communication here is especially important. Make sure your vendors understand their specific roles very well and, of course, make sure you have a contract in writing regarding who's in charge of what.
6 Months Before the Event
Ensure the following tasks are complete at least six months before your event.
Create an Event Website or Landing Page
A website or landing page is another area where we don't want to skimp. It's relatively easy to create a custom event website online these days. We recommend buying a theme from a provider like themeforest.com if you plan to tackle your website on your own. Otherwise, look for a skilled graphic designer to help get your website up and running.
This website is going to be where you recognize sponsors, offer attendees event details, sell tickets, and collect attendee information. Make it accessible from a variety of devices and make sure your grandmother understands it! Again, make sure the branding and style of the website match the theme, tone, and goals of your event.
Figure out how you're going to sell tickets. There are a variety of ways to integrate purchases through a website, but we'd recommend an actual ticketing provider such as Afton Tickets, Ticketleap, or Eventbrite. These providers all offer ways to incorporate ticketing on your website ticket page. By working with a ticketing provider, it makes getting paid, giving refunds and running sales reports MUCH easier. Keep in mind that they will typically charge a service fee that can be passed on to the buyer.
Make a Promotional Plan
Your promotion plan will vary depending on the type of event. There may not be a whole lot of promotion for an internal celebration besides just a few emails sent from HR departments. In contrast, a large conference will need to invest a good chunk of change into advertising on social media, Google search ads, and email campaigns to get ticket sales.
If you have an internal marketing team, schedule a time to sit down with them and figure out your required ad spend to reach your desired audience. This will vary depending on your ticket prices, brand awareness, and many other factors we won't get into here.
Finalize an exact method of how you intend to promote your event and write it down in a content spreadsheet or on a shared drive, so your event team understands it.
Start creating content to promote your event. This consists of email campaign graphics, videos, flyers, posters, online advertisements, banner ads, and blog posts.
Your in-house content team should coordinate closely with the marketing teams involved to make sure everything is aligned well. If you aren't working with an in-house content team or graphic designer, make sure you get appropriate approval from upper-level management.
Understand How You'll Measure Success
A successful event is measured not just by how many people attend but by specific pre-specific metrics. These metrics could consist of the number of leads collected, monetary value raised, partnerships formed, attendee turn over the list goes on. It's up to you to determine how you'll measure success based on your event goals. Create a spreadsheet that lists these out so you can enter the data following the conclusion of the event. We like using Google Sheets since it's easily accessible to our team from anywhere in the world. There are many great event management platforms that you can use for keeping track of event details as well.
Treat Your VIP's Like Royalty
Don't send the same bulk email invitations to VIPs and stakeholders. Create a custom invitation (resembling your theme) and mail it to them via snail mail. Create a VIP badge for them with their name imprinted, meet them for lunch to invite them, and physically hand them the invitation to know they received it and so they understand that you care if they attend.
That's not all. Make sure you communicate with them and understand when they plan to arrive. If they're a high-level sponsor, make sure all of their sponsorship expectations are met (prominent branding, no wrinkled programs, business cards, etc.).
Assign one of your event team members to your guests to check on them throughout the event.
2-3 Months Before the Event
As the event draws closer, you'll want to make sure these tasks are complete so you can be ready.
Track Guest Attendance
Keep a spreadsheet of your VIP guests separate from your general attendees. Luckily since we talked you into using a ticketing system, keeping track of guests will be a breeze unless you have specific things included for each guest. If you're having trouble getting RSVP's, have your team reach out one by one.
Master Run-of-Show (ROS) and Site Plan
Walkthrough and visualize every single part of your event with your team. Open up a spreadsheet, and in the left column, write down what happens every five minutes from the time the doors to your event open to the time they close.
What time will you make that final call announcement? Who will make it?
Every part of your event should be on your schedule, along with the projected duration. It should also include any contingencies in case problems arise.
You should have already created a draft site plan. Start updating it now that you have a good understanding of rental items, vendor placement, seating arrangements, etc. Share this with all of your vendors and your venue. Make sure to look back over this corporate event planner checklist.
Ramp up Paid Advertising and Promotion
You have the majority of your advertisements and copy created. Maybe you've already been running ads. If you haven't met your sales/attendance goals, now is the time to increase your daily ad spend. Send press releases, send internal emails every few days, and hang flyers or posters.
2-3 Weeks Before the Event
The event is practically here — what do you do? Follow these steps to keep everything straight as the day nears.
Communicate, Communicate, Communicate
Reconfirm every single part of your event with your vendors, speakers, guests, f&b suppliers, and your event team. Send out update emails, meet your vendors for another on-site walkthrough, and be sure to ask "what if" questions–lot's of them!
Create and Confirm Speeches, Scripts and ROS's
This will probably be the thing that takes the majority of your time, but these have the potential to go wrong right off the bat.
For specific speeches, make sure you have multiple editors or PR experts review your scripts.
Be sure speakers know what and when to say what they're supposed to. Also, think about the mood the audience is going to be in. If it's the end of a 3-day conference, they probably won't want to hear a slow story. They'll want something to energize them. Something that'll help them conquer their goals and motivate them.
If you are producing a high stakes event, try to do a dry-run of EVERYTHING the day prior. This will cost you, and it will take a lot of time, but it could outweigh the adverse effects of under-preparation.
Make an Event-Day Checklist
Have your day of event checklist ready. Make sure you have every single thing you need to do on the event day written down. Know who's doing it and how long it'll take. Make sure the people listed are also aware of and have copies. Be sure your signage is up; technology is working, the decor is installed correctly, and make sure there are no tripping hazards that your event attendees may encounter.
Make sure you have your event kit ready with bandaids, pens, paper, name tags, phone chargers, wifi passwords, etc.
Have a pow-wow on the event day with your team to go over your action plan. Check-in with vendors as they arrive. Make sure your caterer has everything they need on the food and beverage side.
Remember, the more thorough and extensive your event plan is, the easier your team will understand it, and the more you and your attendees will enjoy it.
Understanding the Importance of Organizational Skills
In corporate event planning, organizational skills are an indispensable asset. From conceptualization to execution, these skills are the bedrock upon which successful events are built. Coordinating multiple elements, managing timelines and maintaining clear communication channels is crucial for delivering a flawless experience.
Effective organization ensures that all aspects of the event align harmoniously, creating a cohesive and unforgettable experience for attendees. From selecting and coordinating vendors to creating detailed event schedules and timelines, organizational skills enable event planners to navigate complexities and streamline operations.
The detailed organization allows for proactive problem-solving and contingency planning. You can swiftly address obstacles by anticipating potential challenges and having backup plans.
To experience the full potential of organizational prowess in your corporate events, reach out to the services of an event planner for corporations. They bring a wealth of knowledge and practical experience to ensure that every detail is meticulously planned and flawlessly executed, leaving you free to focus on engaging with your attendees and achieving your event goals.
Finally, About This Plan:
While this is an extensive corporate event checklist for any planner, it's not meant to be your "end-all." The event checklists we use for client events consist of hundreds of tasks from start to finish. We use a strategic project management system that helps us manage multiple events per month.
We encourage you to use this to help outline your specific process and fill in gaps where necessary. We wish you and your event the best of luck. Remember, if you've read through this checklist and you've determined event planning isn't your cup of tea, or you don't have the time to take on something this big, we're here to help.
Treadway Events & Entertainment has the best event planners. We're a full-service event management agency based in Portland, OR. Helping nonprofit organizations, individuals, and Fortune 500 companies in Oregon, Washington & beyond deliver unmissable live event experiences for their audience, whether they are customers and employees or friends and family. Using our strategic planning approach and top-notch execution, we craft fluid events guaranteed to exceed the expectations of your fiercest critics.
Unmissable Events and Experiences With Treadway Events
See a recent event we produced for On Semiconductor's Gresham, OR Campus here.
With over ten years of experience in live events, there is no event too big or too small — we handle them all. Whether the function is a 1,000-person fundraiser, community festival, or seasonal attraction, engaging with Treadway Events should be the first action you take to guarantee a successful and professional event.
Our team stands behind our work. In every endeavor, you can expect exceptional customer service, honesty, and a one-of-a-kind consulting experience. Invest in the pros. Contact us today for a thirty-minute complimentary consultation.