When planning for a corporate event, it's important to have a plan. Keep reading for advice about how to stick to your event budget with a successful presentation.
Table of Contents
1. Start Planning Early
Make sure you give yourself enough time to plan out all of the details and factor in all costs your event would require. Use a notebook or spreadsheet to track these costs, and then start creating an event planning budget. Starting early can help you:
Focus on the major details: Your largest expenses should be for the most important aspects of the event.
Book the venue you want: Make sure you get the ideal venue and date for your event so you can start making travel arrangements.
Address issues with planning: With enough time, you can reorganize if you have to cancel and reschedule the event. If your vendors are unable to make the date or you experience setbacks, you will be able to move forward with more flexibility.
Promote the event: Arranging the event early gives you time to reach a larger audience with your marketing efforts.
2. Hire a Professional
Using event planning professionals has many advantages. You can:
Save money: Professionals know about the hidden costs you may have overlooked. You can get the most out of the corporate event budgeting process by hiring a service that provides everything you need.
Work with quality providers: Event planners often have local connections and can help you find the best possible options for your budget. They know which venues to choose for the size capacity of your event and which caterers provide the most affordable food in your area.
Access in-house staff: Your event planning company might also provide its own services for all of your contracting and vending needs, offering affordable deals on big-ticket expenses.
Reduce stress: With the help of a planning team, you can avoid having the sole responsibility of organizing your event.
Meet your objectives: Your event team can target the specific purposes and goals of your event. Whether you're organizing a conference, product launch or client dinner, event planners keep up with the latest trends.
Be aware of legal requirements: If you're concerned with local ordinances, fire codes or other regulations, your planner can ensure that everything is safely upheld.
3. Review Past and Similar Events
Reflect on previous projects as you look at how to budget for an event. Could certain things have gone differently? As you evaluate other events or your own past events, look at these areas for improvement:
The most costly aspects: What ended up costing the most money, and how could those costs have been reduced?
Underused resources: Were you able to use the available resources, or did you end up needing less than expected? Less people may have attended than you expected, or you ended up overbuying.
Gaps in your budget: Did an event go under budget when more had been initially planned? This may present an opportunity for your next event.
The feedback: How did your audience perceive the event? Did they get the intended message? What did they highlight in terms of the event's most positive experiences? Review any complaints the audience had to avoid future problems.
The effectiveness of your partners: If you noticed many complaints about vendors, scheduling or the venue, now is the time to switch.
4. Think of the Outside of the Box Costs
After you break down your event budget into individual costs, look at costs that may be difficult to determine. Does your event require marketing, graphic design or influencer fees? These may have been excluded from your initial planning. Being aware of hidden costs ahead of time will give you a more accurate idea of how much you're spending.
Break down your budget with these tips:
Plan for the type of event: Are you hosting an in-person event at a particular venue, or is this going to be a hybrid or virtual event? For virtual events, you can save big on the venue.
Check your onsite event staffing: The team that helps with greeting attendees, registering them and directing them to the right location helps keep your event organized. As an important expense, you want to make sure your event team offers these services.
Review your meal costs: Make sure you take the expense of feeding your event staff and attendees into consideration. Know who is covering these costs, because they are usually high for a large or mid-sized event.
Review your travel plans and accommodations: Make sure you and the staff who require accommodations have reliable arrangements.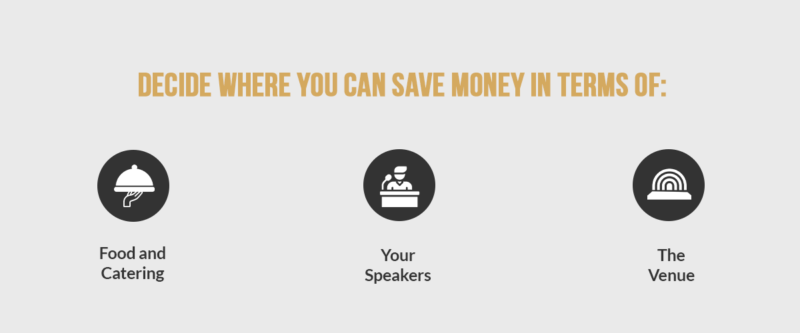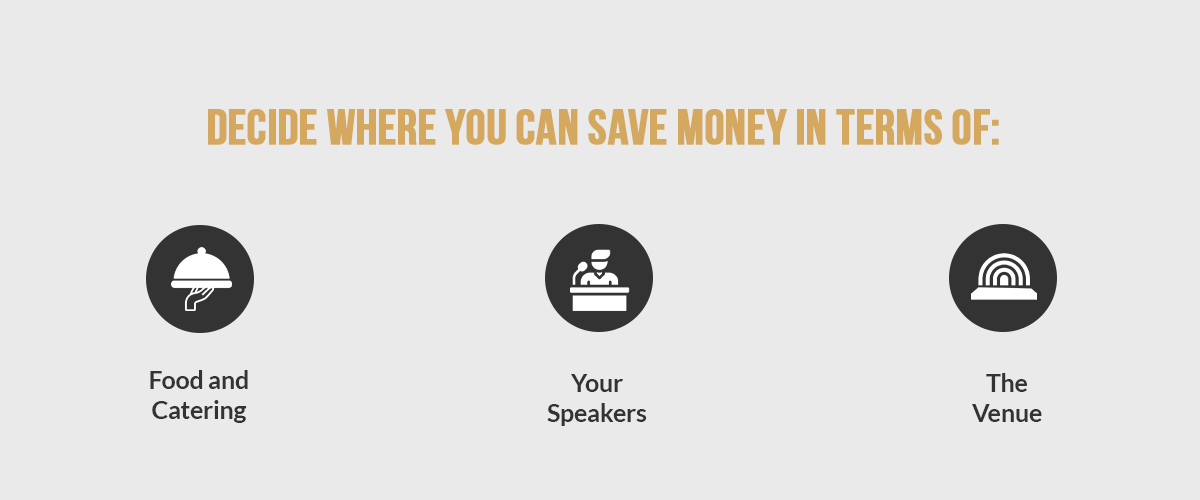 5. Decide on Where to Splurge and Where You Can Save
Your most important expenses will depend on the type of event, and this is determined by more than whether it will be in-person or virtual. Decide where you can save money in terms of:
Food and Catering
If you're having an employee conference, your guests may be expecting a full-course meal with food options to suit their varying preferences. An interactive product launch where guests will spend most of their time talking will probably just require some lighter snacking options.
Your Speakers
Your speakers are a significant part of the budget, particularly if you plan to hire specialists to discuss the subject. Speakers who are more widely known draw in a larger audience with their reputations, but you should also get speakers who fit your brand and your company's vision.
The Venue
Even when you're hosting a private event, it's wise to look for a venue that suits your theme instead of booking the most popular location possible. Some venues might make their costs less transparent than others, so get into contact with the locations of your preference as you shop for rates.
6. Keep Track of All Changes
Expect your plans to change as you draw nearer to the event. Pricing can also change, so it's important to keep an accurate record of all expected costs, which will help ensure you didn't miss anything.
You can keep up with potential changes by:
Updating your budget: Compare your forecasted costs to what you have actually spent. Do this each time you spend on a specific category for the event, such as a catering service, decor or printing pamphlets.
Making adjustments as prices change: Supplies can be lower in price than expected or slightly higher than the average costs. Be willing to make adjustments when you can save money.
Investing in budgeting software: You can keep track of your budget easier if you keep a digital log of your expenses.
Setting aside extra funding: Put an extra line in your budget in case you need money for abrupt changes in your venue plans or unforeseen expenses. This will make your plans more adaptable.
Let Treadway Events Help You Budget
Are you trying to make the ideal choices for your budget? Leave it to the professionals. Contact Treadway for the best corporate event planning services in Oregon, Washington and beyond.