A few years after the pandemic that put the world on pause, professionals are craving the opportunity to get back into the world, connecting with and meeting new faces.
These societal shifts are causing individuals to return to work and travel more than in recent years. By 2024, travel is expected to end the year on $1.48 trillion in global expenditures, a number higher than pre-pandemic levels.
Meeting the demands of these evolutions is crucial for companies and event planners to get right. 2023 event trends are moving toward more meaningful and immersive experiences while technology continues to show us its boundless capabilities.
Keep reading to discover some important corporate event ideas to be aware of in 2023.
Table of Contents
In-Person Events Are Back in Full Swing — But With a Twist
In-person events hold a special place in the hearts of many, and they're finally back. This return, however, doesn't come without some much-needed changes following years of uncertainty and separation. Meetings and conferences that strive to be successful must meet the audience where they are, giving attendees what they want and what they need.
The more people you ask, the more you'll realize in-person events and conferences are essential to bonding and the formation of lasting relationships within various industries. Venues will begin implementing technology, like virtual reality headsets, at meetings to make this face-to-face interaction possible without overstepping the boundaries of social distancing. This technology will connect guests attending in different locations, allowing them to communicate and enjoy the virtual face-to face-contact.
Sitting for hours listening to demonstrations or talks is no longer a viable strategy and will likely result in overwhelmed and uninterested participants. Burnout is more common now more than ever, with close to three out of five employees reporting a lack of interest, decreased motivation and reduced energy from work.
More and more events are incorporating wellness into their itineraries, allowing attendees to enjoy sensory-friendly areas, screen-free zones or activities like meditation and yoga. Even moving outdoors can do a world of good to increase energy levels, improve mood and decrease feelings of depression.
Food and beverage trends for in-person events are also changing. Society is moving toward a new way of thinking about how we eat, valuing more sustainable and responsibly sourced food production methods. The way food is packaged, processed and created impacts how a guest thinks and feels about the event. Plus, offering options for various food diets, especially plant-based, will go a long way in forging an experience that people connect with on a deeper level.
Virtual Events Become More Advanced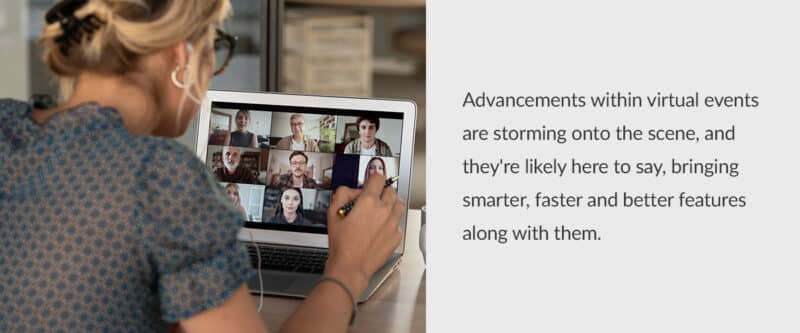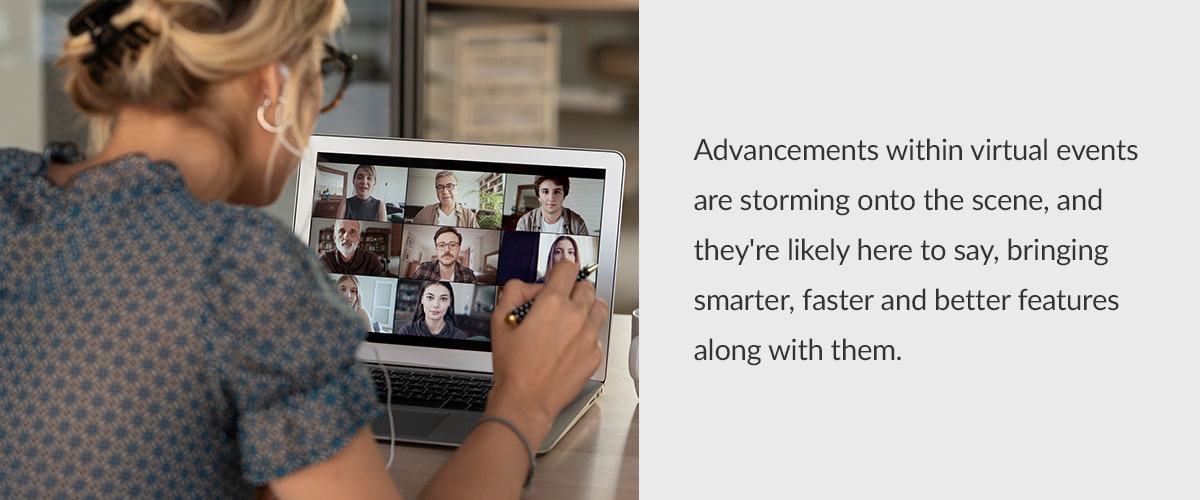 The days of dull Zoom conferences or Google Hangouts that seem to drag on forever are coming to an end. Advancements within virtual events are storming onto the scene, and they're likely here to say, bringing smarter, faster and better features along with them.
Artificial Intelligence (AI) will be at the center of these corporate events, offering guests a more exciting and inspiring experience. Companies can create their own unique virtual environment, customizing computer-generated trade booth and meeting room designs. Demonstrate products, connect remote and in-person attendees and host unique activities that will create a remarkable conference for your guests.
Implementing AI into your future corporate event ideas in 2023 can cut costs and enable you to:
Receive advanced data insights: You'll effortlessly collect real-time data like attendance and popularly visited areas, providing you with the information you need to make changes for the future.
Increase interactivity: AI will help you implement live polling, chatbots and smart agents to help attendees obtain the information they need during your virtual event.
Personalize audience experience: From changing background colors to recommending event areas of interest, AI can help you create a unique experience for everyone.
Enhance networking capabilities: AI allows you to easily and efficiently segment attendees based on careers, industry, interests or other audiences. This segmentation makes for smarter matchmaking that increases networking opportunities while eliminating awkward silences and unproductive conversations.
The Focus on Going Green
Business events attract more than 1.5 billion attendees every year. And that number is likely to continue growing. The sheer amount of people in attendance requires infrastructure behind each event to support itself, from transportation to food production. These components ultimately impact carbon emissions, waste, pollution and water usage in the process.
As society continues to propel itself into the future, the importance of going green is becoming more definite, especially within the business event industry. Guests are beginning to expect organizers to push the boundaries of what an environmentally friendly event can be. This expectation drives professionals to make conscious decisions regarding recycling, choice of venue, food sourcing and other factors.
The benefits of these green initiatives are plentiful, offering healthy advantages to the planet while also helping businesses forge a responsible image. Attendees with similar views can enjoy their experience knowing they're a part of something trying to help the environment.
With sustainability at the forefront of planning, event professionals are focusing on planning events that are environmentally conscious while reducing overall costs. Some sustainable ideas being used include:
Using water pitchers instead of disposable bottles
Eliminating plastic products
Encouraging carpool transportation
Utilizing LED lighting
Finding locally sourced ingredients for food
Hosting an outdoor event
Choosing responsible recycling methods
Interactive Hybrid and Themed Events
Hybrid events are a must-follow trend in 2023. They offer the best of both worlds — providing a physical location for those who want to attend in person and offering virtual capabilities for remote attendees. It will still be essential to allow these virtual guests to participate, comment, send in live questions and speak with physical attendees. These events should be planned wisely, offering interesting content in the form of Q&As, demonstrations, one-on-ones and other interactive hybrid options.
The key to these hybrid event trends in 2023 will be to quickly create a thoughtful and engaging experience by hosting a themed gathering. Have your guests dress up, arrange contests and provide customizable drinks and food. Some unique ideas for these immersive experiences include a carnival, a holiday winter wonderland, a luau or Hollywood. You could also choose themes based on business goals, like sustainability or community outreach. These themed events will allow your guests to connect while enjoying a memorable experience.
Plan Your 2023 Event With Treadway Events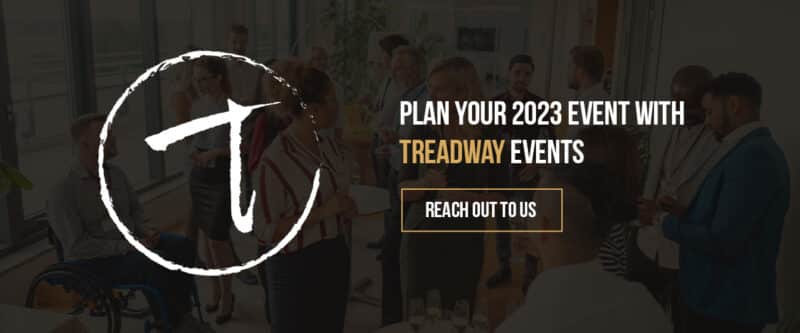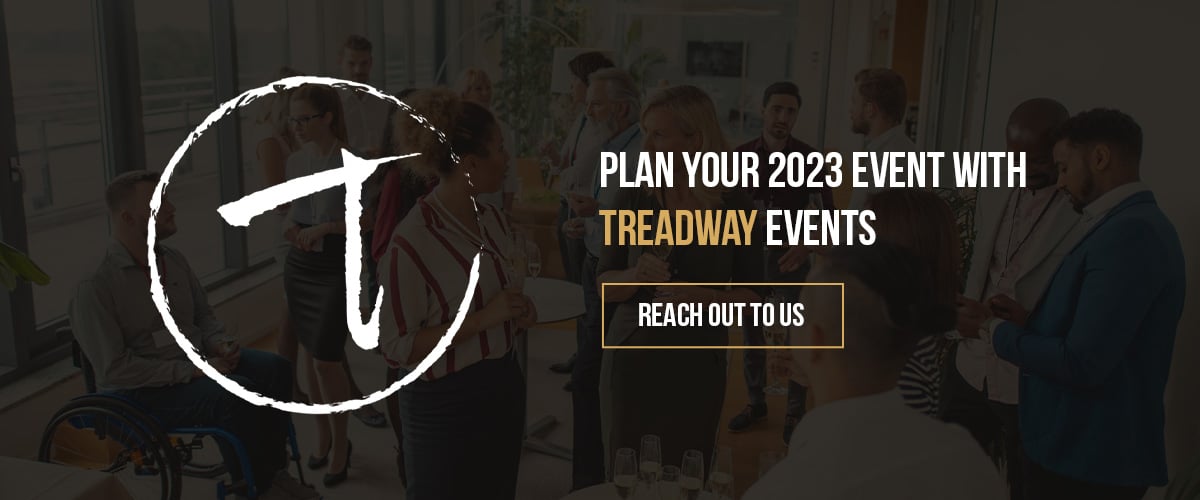 Keeping your business in tune with the ever-changing perspectives of society is essential to the success of your events now more than ever. Treadway Events is a comprehensive event agency focusing on creating meaningful experiences that lead guests to form relationships and gain knowledge that will last a lifetime.
We'll help you create an event that leaves your guests looking forward to the next one. If you're interested in how we can help your company, contact our team to get started today!