Wondering what a corporate retreat is and whether you should implement them in your company? Corporate retreats can reinvigorate your employees and restore excitement about working. By removing the pressure of a corporate environment, people can relax and feel more comfortable with their peers, increasing the openness and interaction between them. Corporations can use company retreats to reduce employee turnover, improve collaboration and encourage brainstorming.
Many businesses have embraced retreats for their employees for many reasons. They are a great way to attract and retain talent, initiate team building and training, and open dialogue between departments. A retreat is also the perfect time to set new company-wide goals, reflect on and celebrate the past year, and strategize for the future. Let's explore this concept and examine the benefits of corporate retreats for companies.
What Is a Corporate Retreat?
Corporate retreats are corporate team-building events. The purpose of a corporate retreat is to offer a fun and productive getaway for employees, supervisors and employers. An effective corporate retreat fosters bonding among co-workers and facilitates corporate planning in a comfortable environment. Corporate retreats offer an excellent opportunity to strengthen the professional relationship between colleagues. They are held outside the workplace and involve work-related and non-work-related activities, such as team-building exercises, learning and training opportunities, collaborative activities and informal socializing.
Corporate retreats can be department-specific or held for the entire company. The length of a company retreat depends on various factors, such as the number of attendees, budget, travel to and from the location and the retreat's objectives. Corporate retreats differ from company workshops as they occur away from the workplace over multiple days. They're often hosted in more rural locations, providing a secluded environment where teams can learn to work together and be inspired.
Benefits of Corporate Retreats
While planning a company retreat may have challenges, such as accrued expenses and taking employees away from their families for a few days, the benefits of business retreats far outweigh the difficulties.
Corporate retreats are an excellent opportunity for employees to enhance employee morale, offer in-depth training and encourage better employee communication in a relaxing environment. A 2021 survey by Indeed revealed that 67% of workers reported more significant burnout since the COVID-19 pandemic. Corporate retreats are an excellent way for companies to show that they value their workers' mental health. When workers feel that their employers prioritize the well-being of employees, workers become more open and willing to contribute to the company's goals.
Bring Employees Together
Relationships formed at the workplace matter, and corporate retreats can create fun activities to facilitate growth and development within a team. Team bonding is essential for a company to achieve its goals. Corporations can use a retreat to strengthen groups, connect members from different departments and ensure teams are on the same page and working towards the same goal.
A withdrawal from work allows employers to get to know and relate to their employees better. Busy schedules and life's everyday stresses often present a challenge for employers to establish relationships with their employees outside of work. Corporate retreats offer a unique opportunity for employers and employees to get to know each other outside their place of work. Company getaways also allow co-workers to work through team conflict and get a break from their daily work demands to focus on a particular goal.
Allow Your Team to Be More Creative
When workers are in a relaxed but stimulating environment, it promotes creative thinking that nourishes valuable input. Workers feel freer to approach challenges from a different perspective, finding more ways to serve clients. Corporate retreats are also a great time to introduce any challenges your company faces and get colleagues from different departments to work together to bring new solutions to the table.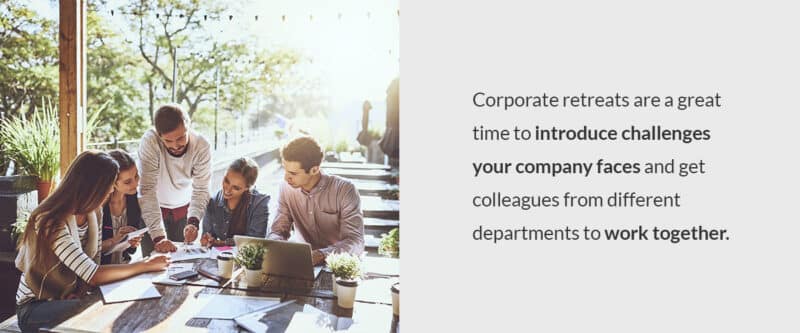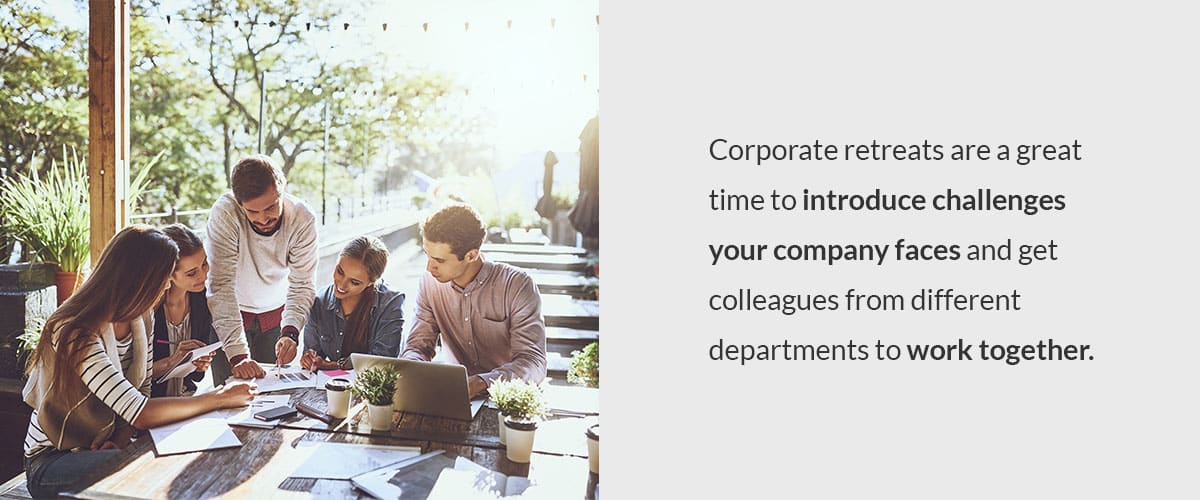 Finances Online reported that over 90% of business travel managers believed corporate travel was essential to company growth. Many workers feel they have their best ideas when traveling. These results shouldn't be surprising because people still discuss work and naturally brainstorm ideas at corporate retreats because they're with their colleagues. Deliberating solutions to work problems in a casual setting can get creative juices flowing and inspire unique solutions to old problems. Corporate retreats also offer employees time to reflect on their tasks. Reflection is necessary for growth, and employees who don't often reflect on past performances are less likely to improve in their roles.
Strengthen Company Culture
A corporate retreat allows management to underscore the company's values, affirm the core mission and clearly define the long-term goals. Business retreats are an effective means of setting the company's vision and implementing it. Employers define the company culture, and employees maintain it. An annual corporate retreat can lay the foundation for a positive work environment by upholding and building a thriving company culture. Trust, communication, teamwork, shared goals and stakes can all be established and refined through retreat engagement.
Get Remote Team Members Involved in Person
Corporate retreats are an excellent way to boost employee morale and improve collaboration, especially for remote teams who would otherwise not have the opportunity to meet up face-to-face. Many employees feel their most significant loss from remote work is the lack of in-person contact with colleagues. However, research reveals that just the thought of upcoming travel can boost employee happiness by 9% and hopefulness by 18%. In-person company events such as corporate retreats present an excellent opportunity for connecting remote workers, increasing cohesion and reducing feelings of isolation for remote team members.
Ideas for Corporate Retreats
Consider these ideas for your next corporate retreat:
Do something outside: Participating in an outdoor adventure together than be an excellent team-building experience. Try biking, hiking or rafting.
Explore a new city: Heading to a new city is an excellent opportunity to get away from the office. Exploring local landmarks and highlights can also work if you have many team members coming in from out of town.
Plan a special one-day event: If you only have time for a brief retreat, make sure it's something special. Consider cooking, crafting or taking a class together.
Planning a Corporate Retreat? Let Treadway Help!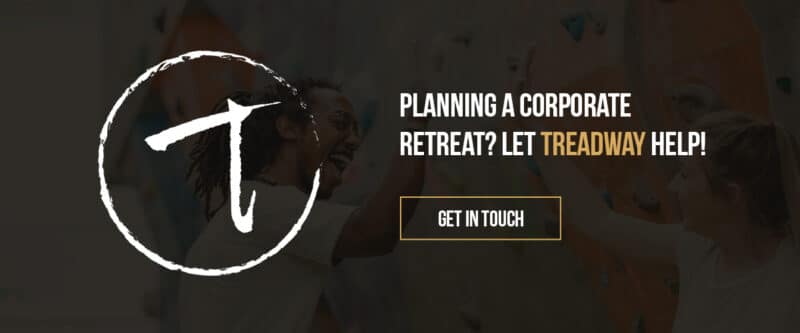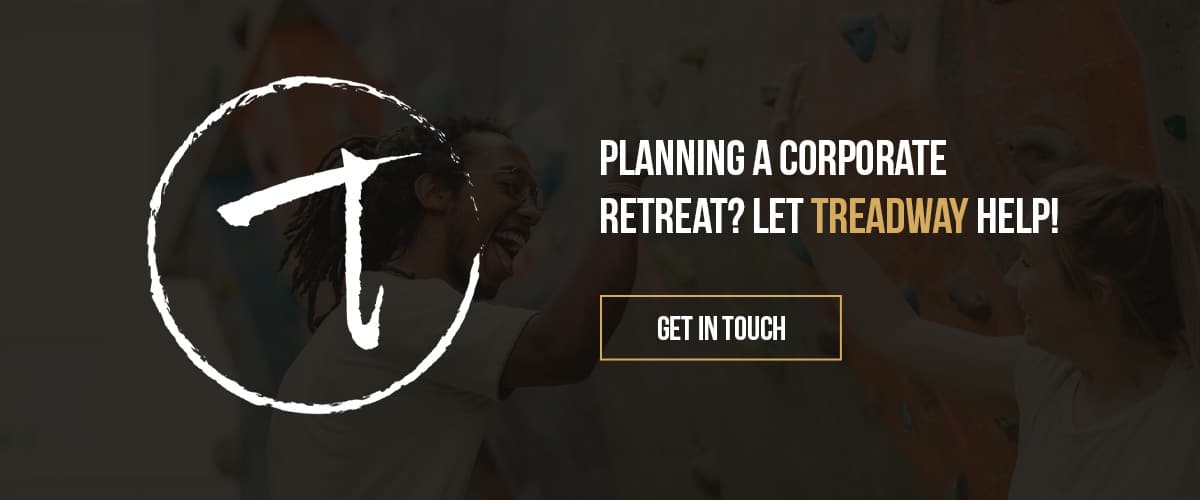 Is your organization looking for ideas for a corporate retreat? The importance of corporate retreats cannot be overstated, whether your employees work together in an office or as a remote group. Company retreats boost employee happiness and build a culture of trust. They have proven to be a powerful way to support employees and enforce a positive company culture. However, getting your team where they need to be can take time and effort as your organization grows.
Treadway Specializes in corporate event planning. We can help you create meaningful corporate retreats that increase productivity, boost employee morale and build long-lasting relationships between co-workers. Get in touch with our team of excellent event planners to start planning a retreat your company will never forget.