It's a post-COVID-19 world in event planning and changes in how people meet in professional settings have led to new and unique event trends. These recent trends reflect a shift in attitudes about corporate responsibility, alternative forms of employment and concerns about society and the environment.
Below are the top event trends in 2022 that you can expect to encounter.
More Virtual Events
While virtual meetings became a necessity during the pandemic, events coordinated for a remote audience have remained popular for several reasons:
They can reach more people: Asking people to meet in person can lead to attendance barriers and exclusion. Virtual events have the potential to net a wider audience, easily drawing in traffic from great distances.
They're more environmentally friendly: Virtual events are more sustainable and require fewer resources to host and attend. Participants can save gas money and eat and drink what they have at home.
They increase your ROI: Planners who host virtual events have enjoyed reduced costs in recent years. Virtual events are often more affordable to run than in-person events on the same scale.
They're in high demand: Many people appreciate the flexibility that virtual events offer — 84% want virtual attendance options going forward. Remote meetings are comfortable and low-stress for many people, letting them stay close to their young children and have enough time to complete daily responsibilities.
Follow these tips to make your virtual events more effective:
Use the latest software: Before hosting a virtual event, ensure your software is up to date. Event professionals who rely on virtual planning need software to support the number of people in attendance and work reliably throughout the meeting.
Create professional presentations: Invest in tools that give your presentation a greater production value. Homemade PowerPoint presentations are expanding in creativity to retain the audience's interest and promote the presenters' professional reputations.
Set up hybrid presentations: Hybrid events, which involve a mixture of virtual and in-person elements, allow more clients to attend your corporate event in their preferred delivery method. Ensure that your attendees know if your presentation is available in a hybrid format.
Advertise your event online: You want to be able to showcase your brand with any type of event. Advertising for a virtual event is flexible because you can post an invitation link on many outlets online to draw in a wider audience.
More Focus on Protocols for Health and Safety
COVID-19 has brought an increased focus on health and hygiene issues. Social distancing measures and an emphasis on personal responsibility have left us with continued interest in current health and safety practices.
People considering whether to attend an in-person event are often concerned with safety. As an event planner, you need to take visible precautions to ensure that attendees feel comfortable in the meeting environment.
Considerations that have become more important through the pandemic include:
Touchless technology and digital communication: Technology like touchless thermometers makes it easier for people to maintain a safe distance from each other. Digital communication, on the other hand, makes it easier for distant or traveling parties to stay connected.
Event safety: Extra precautions and procedures like social distancing and masking requirements effectively limit the spread of illness. Risk assessment is an important consideration when organizing an event.
Sanitary spaces: Provide hand sanitizer for guests, plan for adequate spacing and ensure all surfaces are clean and tidy. Sanitation stations are a visible way to demonstrate your commitment to public health.
Flexible booking policies: After the increased flexibility that the pandemic required, many attendees now expect an event to be flexible with booking and cancelations. It's best to offer as much flexibility as possible and be sure attendees can find your booking policies easily.
Creative seating arrangements: Setting up evenly spaced seating at a venue can make the atmosphere more comfortable for guests.
Outdoor event spaces: Outdoor venues have grown in popularity because they lower the risk of viral transmissions between attendees. With an accommodating venue space and careful planning for weather obstacles, you can host your event outdoors for a change of scenery from the usual settings.
Diagram checks: Drawing out your plans for the venue space allows you to set standards for the maximum capacity of a room. Knowing how many attendees you can safely accommodate is an especially useful measure for larger pay-per-seat events.
Vaccination requirements: Many events continue to require attendees to present their vaccine cards or proof of a negative COVID-19 test. You should ensure that any vaccination requirements are clear and accessible to all potential attendees.
Backup plans: Your event should have a Plan B in case of issues, and your venue should also have quick access to emergency services.
More Software and Apps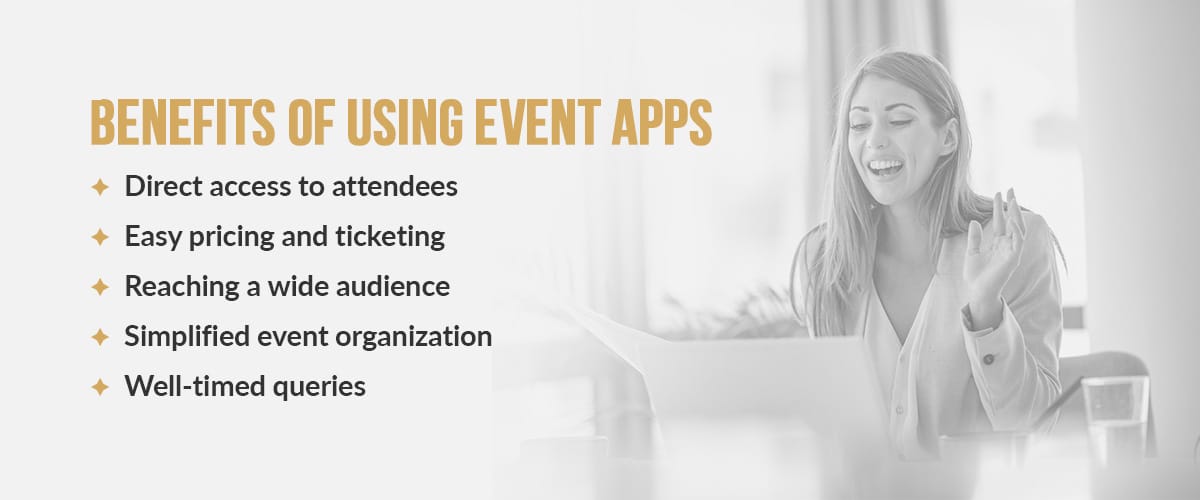 Event-finding apps like Eventbrite and event-hosting apps like Zoom continue to grow in popularity. Many apps feature advanced meeting interfaces that make interactions between attendees easier.
The benefits of using event apps include:
Direct access to attendees: On apps like Zoom and Microsoft Teams, you can see your attendees and ask for important information through the chat feature when needed.
Easy pricing and ticketing: For paid live events or pay-per-view livestreams, you can use apps like TickPick to sell tickets to interested users.
Reaching a wide audience: Eventbrite and All Events in City allow users to search for events of interest to them and use a location feature to check how far away a relevant in-person event is.
Simplified event organization: Many hosting apps offer the ability to make lists of attendees and send invitation links via email. You can limit your audience or make it a public event with the right advertising.
Well-timed queries: Hosting apps allow your attendees to ask questions in the chat feature at planned intervals and you will always know who asked the first question.
Virtual and AI Components
Artificial intelligence (AI) and augmented reality (AR) are two virtual components new in the event industry that can assist the event process in a nearly endless number of ways.
Most commonly appearing as customer service chatbots or voice assistants like Siri or Google Assistant, AI can help with planning and coordination. As AR adds computer graphics to a real-world environment to create an engaging user experience, event planners often use it to showcase products or services.
Emerging event technology:
Modernizes the event: Attendees enjoy experiencing the latest advances in technology and changes in culture.
Creates new opportunities: You can use AR video technology for entertainment, product demonstrations and tours. AI technology can assist with collecting attendee feedback, networking and personalized marketing campaigns whether your targeted audience is primarily in-person or virtual.
Offers the best possible experience: AI bots can help register attendees quickly. Creating a virtual map of the event space using AR routing can help attendees find specific sessions or vendors before the event begins.
More Unique Venues
Venues with unique themes and arrangements are starting to become more popular. While virtual events are on the rise, in-person events offer great opportunities to showcase your unique style.
Added creativity and a unique choice of scenery can help your attendees remember your brand's values. Additionally, if you choose a venue with a scenic location or relevant setting, you may be able to save money with minimalistic or functional decor.
Plan your next themed event or professional presentation at one of the following locations:
An art gallery
A historic building
A retreat
A museum
A warehouse
A garden or farm
Plan Your 2022 Event With Treadway Events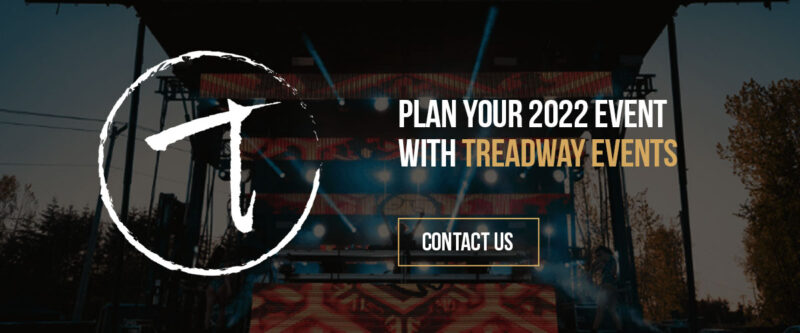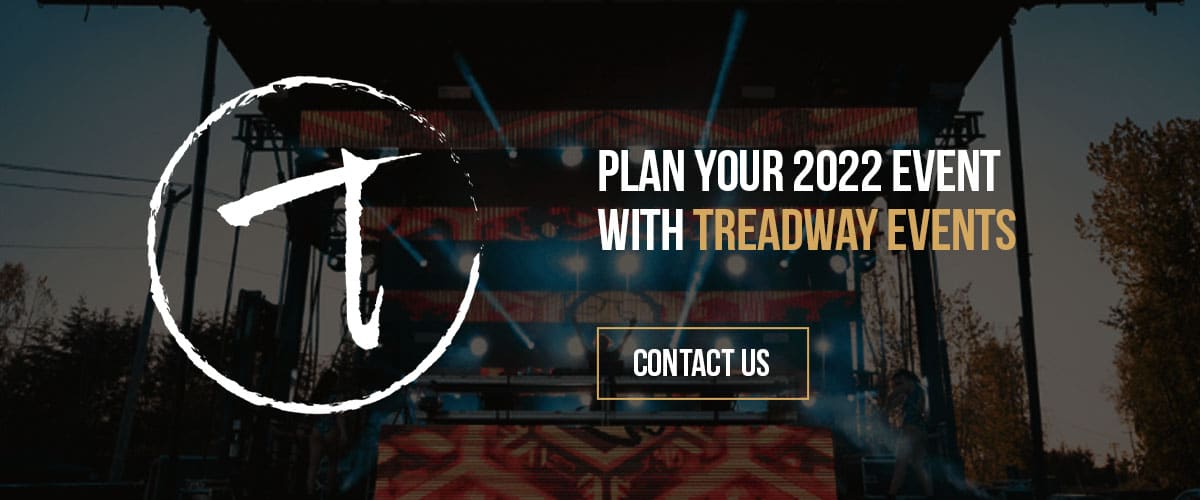 Stay ahead of the top event trends you can expect to see in the coming years with Treadway Events. We help plan must-attend events. Contact Treadway Events to get started on your next event.