Finding a place to host a corporate event involves substantial planning. One of the most important parts is deciding where to host your event. Although finding a local hotel conference room may suffice for some, a more engaging option will bring your event to life and get attendees even more excited about it.
Portland, Oregon, is a city full of flavor, history and fun. Finding a venue in the area is possible for every size of event. Whether you're looking to host a weekend getaway for your mastermind colleagues or initiating a multi-day event of workshops, training and seminars, Portland has plenty of venues to choose from that can take your event to the next level.
Table of Contents
Why Portland Is a Great Location for Corporate Events
Hosting a corporate event doesn't have to mean long days of meetings, seminars and workshops. At the end of your productive days, you and your guests can enjoy the nightlife of Portland and find other ways to enjoy yourselves.
Portland features open mic nights, adult gaming spots, karaoke and delicious late-night snacks and drinks. You can find local restaurants with a happy hour every night of the week, so you and your colleagues can enjoy a refreshing drink after collaborating on projects and innovations. This city also has several urban farms and talented chefs, creating a flavorful combination of dishes and desserts that everyone can enjoy.
Additionally, Portland has a unique history that you and your attendees can explore in your downtime. From wandering the International Rose Test Garden from 1917 to admiring the Portlandia sculpture or finding the world's smallest park, you can explore the city and note all the fascinating aspects that make Portland unique.
The Best Venues in Portland
Portland is more than a historical city with delicious grub. This city has beautiful views, rural locations and private land to host your events. From warehouses and farms to fairgrounds and concert stages, Portland has many venues to choose from that can accommodate any size party and give them a beautiful look into the city's landscapes.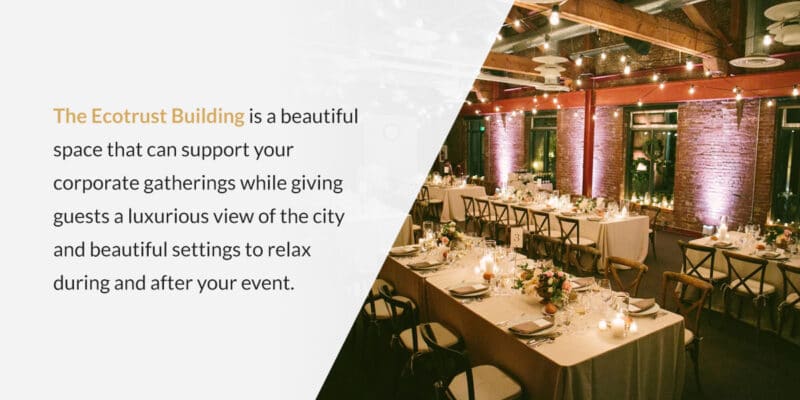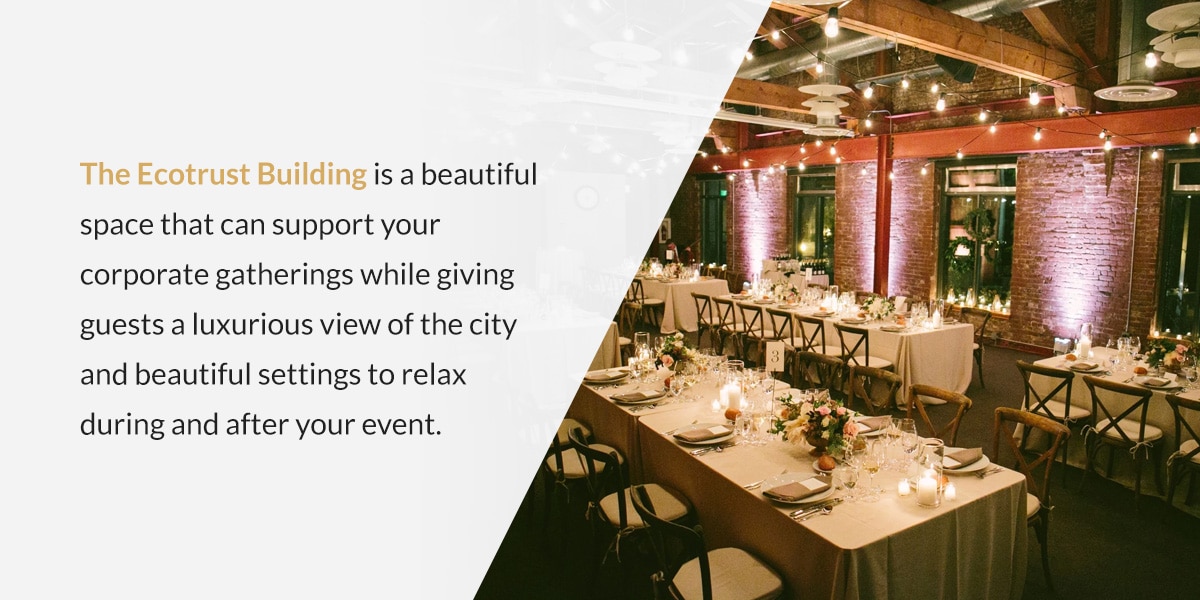 Meeting Spaces With a View
Black Pearl on the Columbia is a large event venue that can hold over 1,000 people inside and has space for more on the patio or deck. This venue has a fantastic panoramic view of the Columbia River, and the team at the Black Pearl considers their space a blank canvas where any theme or design can come to life. This could be an incredible space for a launch party, mastermind retreat or holiday party because you can keep the space as simple or elaborate as you want.
The Ecotrust Building is a beautiful space that can support your corporate gatherings while giving guests a luxurious view of the city and beautiful settings to relax during and after your event. With four different spaces to choose from, you can facilitate workshops, host guest speakers or conduct tasteful discussion sessions throughout the entire day.
Clark County Fairgrounds is less than 30 minutes from downtown Portland. This venue has incredible flexibility and can accommodate over 7,500 vehicles. The Exhibition Hall features air walls, meaning staff can move in six different configurations, ensuring you have the space you need for your event. You can host training sessions or workshops in an organized and comfortable way. This venue also offers meeting packages that include optional catering and free parking for corporate events.
Intimate Event Venues
Abbey Road Farm is a rustic event space just outside of Portland that houses a winery and bed and breakfast and hosts several events throughout the year. This venue can accommodate up to 200 people, but its location and private meeting spaces make it perfect for small, intimate events and meetings as well. Mastermind retreats and other group getaways would be perfect in a place like this because all attendees could easily gather to share ideas before falling asleep in one of five beautiful and vibrant bedrooms.
The Artillery Barracks in Vancouver, Washington, is a short drive from downtown Portland and another interesting location for intimate meetings. Although this venue can seat between 30 and 500 guests, depending on the site you choose to rent, the Board room can comfortably fit 30 guests, making it ideal for small get-togethers. With leather seating, projection televisions and conference phone hookup, this space is perfectly professional and comfortable for your small event.
Easton Broad is a venue with tons of natural light and an industrial feel. This space features wood plant ceilings, concrete floors, soft paint, floor-to-ceiling windows and a built-in bar. This area is great for off-site meetings, charity events or fundraisers and can hold up to 220 standing people.
Unique Venues in Portland
For an exciting and creative way to gather those in your industry, Portland International Raceway is sure to capture your attendees' interest and create buzz for your event. This venue can host a small gathering or a town-wide event. If you're looking for corporate team-building spaces or want to create a lasting connection with your community, hosting a kite-flying competition fundraiser, obstacle course team challenges, haunted house brand awareness events or another fun occasion at Portland International Raceway might be the way to go.
The Lot at Zidell Yards is an outdoor venue with a complete stage, sound system, seating pods and an LED screen, perfect for presentations and images. May events can accommodate 300 people, while those held in July and August will support up to 600 people. This space is excellent for large corporate conferences with guest speakers or launch parties with an extensive attendee list that keep everyone in their own area, a safety trend that won't be going away anytime soon.
The North Warehouse is a transformed warehouse with an indoor and outdoor venue space. The North Warehouse usually hosts concerts and other musical talents, and you can utilize the state-of-the-art lighting and sound system to create a unique setting for your event. You could use this space to host speakers, review presentations or watch business videos that propel discussion or discuss trends in the industry.
Plan Your Next Event With Treadway Events
Treadway Events is an event planning company right here in Portland. We provide event services that generate buzz about your event and leave your guests wanting more afterward. We create events that no one wants to miss, and our tight-knit team drives exceptional results using their knowledge and expertise to deliver success.
We can help you find the right location for your next event and give you professional advice from start to finish. Located in Portland, we know a thing or two about unique Portland event venues that will pique your attendees' interest and create an elegant atmosphere for your corporate event.
Whether you need planning and project management or assistance finding sponsors, we've got you covered. Contact Treadway Events for a free event consultation.