When the December chill settles in, your teammates have something on their minds — the holidays. The annual office holiday party is something that everyone looks forward to. It's a chance to let loose and bond with your colleagues, and, in many offices, it officially marks the beginning of the holiday break.
Skip the holiday punch and stale office environment — this year is going to be different. Your typical corporate holiday party is going to be an event to remember for all the right reasons. These company holiday party ideas will help you set the tone for your event and create an atmosphere that celebrates the season with luxury for any budget.
Table of Contents
Include a Photo Booth
Photo booths are popular for a reason. They encourage partygoers to embrace spontaneity while capturing lasting memories.
However, you don't have to go with an old-fashioned photo booth for this one. There are several high-tech options that incorporate quality HD videos and photos, such as GIF and boomerang booths, green screens, 360-degree videos, glam booths and slow-motion captures. Your staff will receive the royal treatment and feel like celebrities for the night.
Photo booths can be set up to feature seasonally themed backgrounds and holiday props to make it fun and interactive. As far as the best corporate holiday party ideas to take your event to the next level, a photo booth is hard to beat.
Feature Live Entertainment
Whether it's live music or a cartoonist, live entertainment always delivers an unforgettable addition to an event. It may be easier to place a playlist on shuffle, but real entertainment elicits a lively and exhilarating environment for your team to enjoy.
In-person entertainment doesn't just give your guests something to interact with. The best part is that there are plenty of options for performance artists that will provide quality entertainment, regardless of the size or budget of your party. It brings all of the pieces of your event together while maximizing the impact of your budget.
As far as entertainment ideas for company Christmas party gatherings, you can explore live music, magicians, impersonators, portrait artists or even hypnotists. Allow the anticipation of the holiday season to inspire your choices, and your employees will have a memorable time.
Incorporate DIY Stations
It may sound unconventional, but fresh, eccentric ideas may be the key to throwing a successful corporate holiday party. DIY gatherings have soared in popularity over the last few years. Paint and sips, wreath making, ornament decorating and even planting succulents are all trendy ideas that will fill time and provide an extra gift for your staff to take home. These stations also give your guests something to interact with and chat over.
People love the ability to customize something, to make it completely their own and allow their individuality to shine. You can incorporate a DIY station into your event in a variety of ways, including:
Food: When you need to meet everyone's dietary preferences, try adding a DIY food station. Make-your-own pizzas, s'mores, baked potatoes or waffle stations are all delicious options that will satisfy your staff. You can also focus on the decorating side of culinary creations. With toppings, sprinkles, frosting and icing, a cupcake or cookie decorating station becomes a sweet addition to a corporate party.
Crafts: Take your DIY ideas to the next level with customized jewelry, candle making and DIY bath bombs. For a festive option, consider a decorating station for wreaths, stockings, ornaments or other holiday-themed items. You can even set up a wrapping paper decorating table, where your team members can stamp, paint and draw on plain paper to use for their holiday gifts.
Bring the Party Somewhere Else
Holiday and Christmas party ideas for work don't have to be limited to the office. Expand your vision for your holiday office party by hosting it at a new destination.
It can be difficult for your employees to separate themselves from the usual water cooler conversations and task lists when a celebratory holiday event occurs in their place of work. Bringing the party to a different location will create the relaxed atmosphere that your colleagues need to truly unwind and enjoy this special event.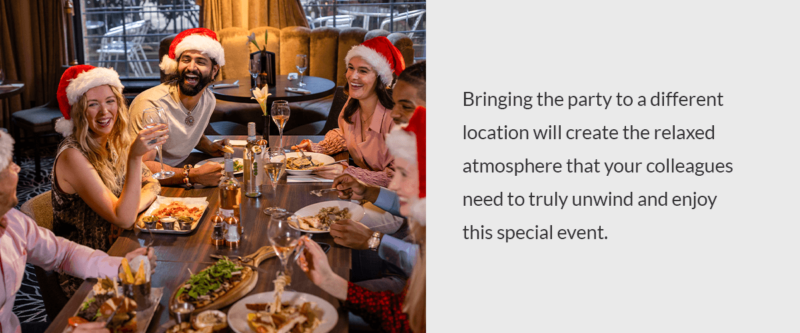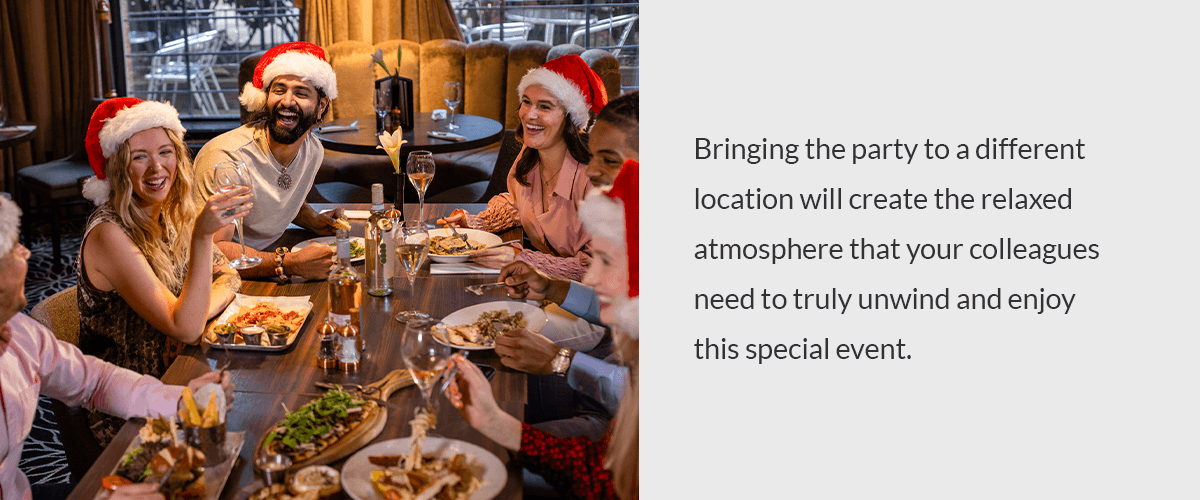 Just because you are moving your corporate party out of the office building doesn't mean you have to hold it in a traditional event hall, either. Take this opportunity to think completely outside the box. Some unique locations include museums, aquariums, a renovated warehouse, a library or a sports stadium.
Your corporate Christmas party doesn't even have to be a conventional get-together. If you're interested in hosting your event at a new location, you may appreciate an original concept — holding a specialty class. A private mixology, furniture making or cooking class can loosen up your team, teach them something new and give them a souvenir so they never forget this one-of-a-kind event.
Hold Contests and Give out Prizes
If you want to skip the usual secret Santa and white elephant gift exchange, consider hosting a contest or giveaway at your holiday party. Freebies are a great way to motivate your employees and show a little extra appreciation for all the effort they give to perform well. If you want to combine the two ideas together, you can create a team-based contest that pairs your employees together to solve a problem that requires teamwork and communication.
Consider these contest and prize ideas for your gathering:
Contest ideas: Whether it's a structured team activity or a solo challenge, these small contest ideas are guaranteed to be a hit. You can host a gingerbread house competition, holiday trivia, ugly sweater contest, tree decorating, murder mystery party or minute-to-win-it contest.
Giveaway prizes: Leave the branded office merchandise to in-house raffles throughout the rest of the year. For your holiday giveaways, consider cash gift cards, subscriptions, additional vacation days, hotel stays, a reserved parking spot or dinner at a local restaurant.
Corporate holiday parties are the perfect opportunity to bring your colleagues together. What bonds teams together more than celebrating each other's wins?
Trust the Party Experts at Treadway Events for Your Corporate Celebration
You and your team deserve to celebrate the holidays in luxury and style with a standout holiday party that you won't stop talking about until the next seasonal celebration. Treadway Events are the authority of unmissable turn-key events nationwide.
From coordinating a budget that saves you money to communicating with vendors to make your holiday party truly special, we use all of our resources to make your gathering an unforgettable event.
Start planning your event today with a free consultation. Reach out to us today to get started or call us at (971) 266-1781.