Work can be rewarding, but everyone loves a chance to step away and enjoy a company event. Give your employees a break and provide them with convenient engagement when you put on a virtual event. They'll love bonding with each other and exploring new games and topics from the comfort of their homes. Additionally, you can branch out and elevate your event when you use a virtual platform — without geographical borders, your potential is limitless. Here are some ideas for virtual events to help you start planning.
Benefits of Virtual Events
While companies might have once hesitated at the thought of virtual events for employees, they quickly became the norm due to the COVID-19 pandemic, aided by technology. Virtual meetings are more advanced than ever, allowing employees to gather regardless of distance. Modem technology enables us to enhance the event experience, bringing fun, engaging events to employees everywhere. Let's look at some of the excellent benefits virtual events can offer your organization.
Increased Attendance
Despite what you might expect, employees do attend virtual events. Improvements in virtual meeting platforms and access to technology have led to 80.2% of event organizers reaching a wider audience through virtual events.
The more convenient it is for someone to join your event, the more likely they'll be to attend — what's easier than logging onto your computer? Employees love virtual events because they don't have to worry about travel expenses like gas and food — they get to relax in a comfortable environment where they can fully control variables like lighting and temperature. Giving employees this freedom makes them more excited about events than ever before.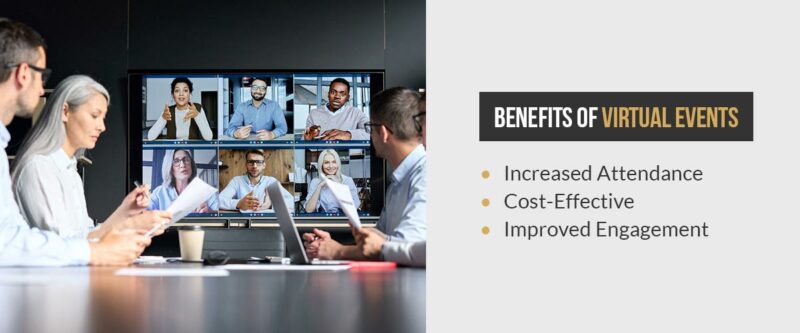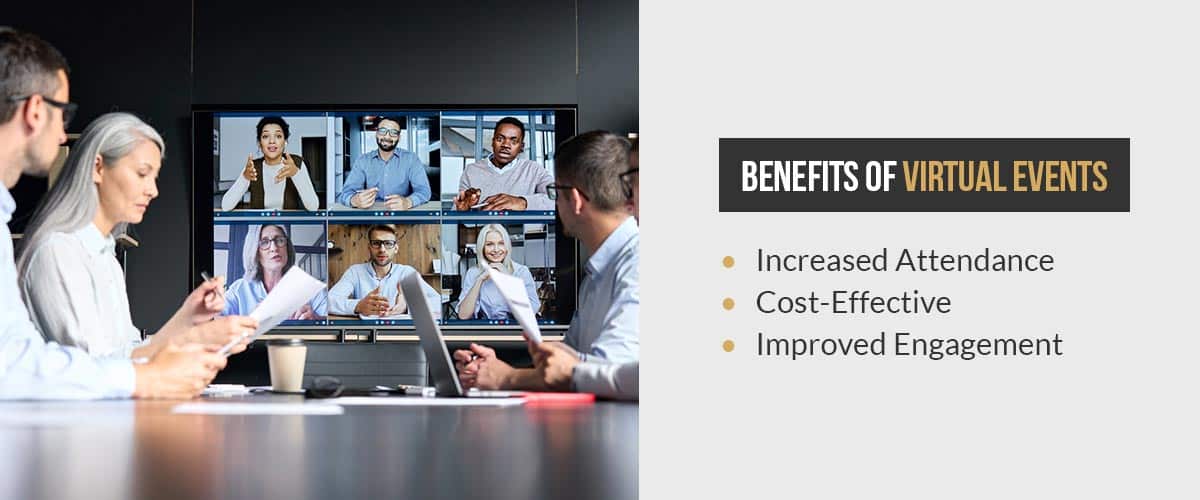 Cost-Effective
Planning an in-person event requires significant expenses. Sticking to your event budget may become challenging. Switching to a virtual event can reduce costs while still providing an engaging experience. Virtual events avoid typical expenses like:
Space rental
Support staff payments
Meal, travel and accommodation costs
Setup costs
Organizations can invest these savings into higher-performance virtual event platforms and special guests or demonstrations. With fewer upfront costs, virtual events provide an event's rewards without the expenses.
Improved Engagement
With higher attendance and a lower budget, virtual events can redirect resources to expanding their content. You can host speaker sessions, breakout rooms, interactive discussion panels and networking sessions. Visitors can choose from more event content and have increased opportunities to talk to each other and event visitors in a virtual space.
Additionally, improved tech allows attendees to view the event from their preferred platform, whether that's a laptop, tablet or phone. They'll also absorb more information — muted mics let every attendee clearly hear each speaker, chats will enable them to ask questions as they arise and the virtual format lets them eat and drink when they want.
Ideas for Online Events
Virtual events are an enjoyable, convenient way to promote bonding, trust and communication. Whether you're hosting a corporate holiday party or want to do something for your company, here are some fun virtual event ideas to try out with your team.
Auctions
Online auctions are an excellent way to fundraise for a good cause. Make sure you've got mobile bidding tools, and you can set up a successful virtual auction. Decorate the event background and encourage attendees to dress on theme, use matching backgrounds and enjoy some food. You'll bring everyone together and help raise funds for your cause.
Escape Rooms
An online escape room has all the mystery, interactivity and creative design of a standard escape room, but in a virtual space. You can divide attendees into teams and have them tackle exciting puzzles online. Try out a different theme every time and challenge attendees to get the fastest time possible.
Game Shows and Trivia
Game shows and trivia let everyone flex their knowledge and practice their cooperation skills. There are dozens of potential trivia and game show subjects to try — have attendees vote on the topic before the event for even more engagement. Reward the winner with a small gift card if you're trying to sweeten the pot and enjoy group bonding as everyone competes.
Art Class
This idea involves some planning — you'll need to send out the supplies they need ahead of time. Let your creative talents emerge — lead a Bob Ross-style painting session or teach everyone a new crafting talent. You can have a different person host each time. Your group will enjoy learning new creative skills, and they'll get to show off their unique talents to the team.
Happy Hour
Invite attendees to whip up their favorite beverage for virtual happy hour. Combine this with one of the other ideas on this list for a relaxed bonding experience. You can even request that everyone create a themed drink to show off depending on upcoming holidays, seasons and even TV shows.
Yoga and Meditation
Are you looking for a more relaxing, reflective virtual event? Guided group yoga and meditation allow everyone to come together and take a break. While mats help with yoga, no equipment is necessary, making this one of the least expensive virtual events to host. Enjoy peaceful, stress-reducing activities as a group during a short yoga and meditation event.
Keynote Speakers
Enrich your team's experiences and knowledge with keynote speakers. Invite special guests or have team members lead a presentation. Encourage your attendees to ask questions and engage with the topic. Since many effective presentations can relate to your company's goals, you can host unique events on different topics.
Concerts
These can be private shows that only invited guests get to attend. Treat attendees to a special concert for an unforgettable event. They'll have a unique bonding experience, giving them a wonderful, lasting memory.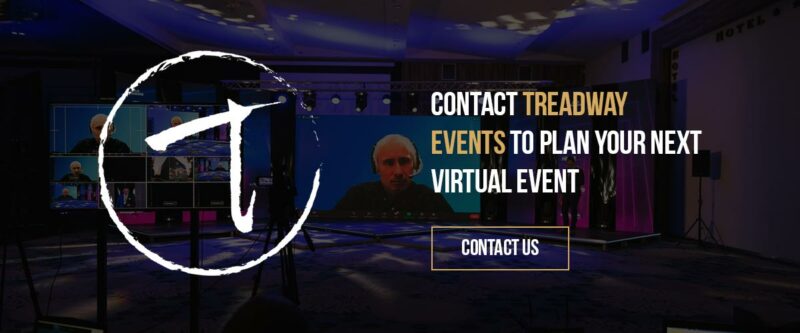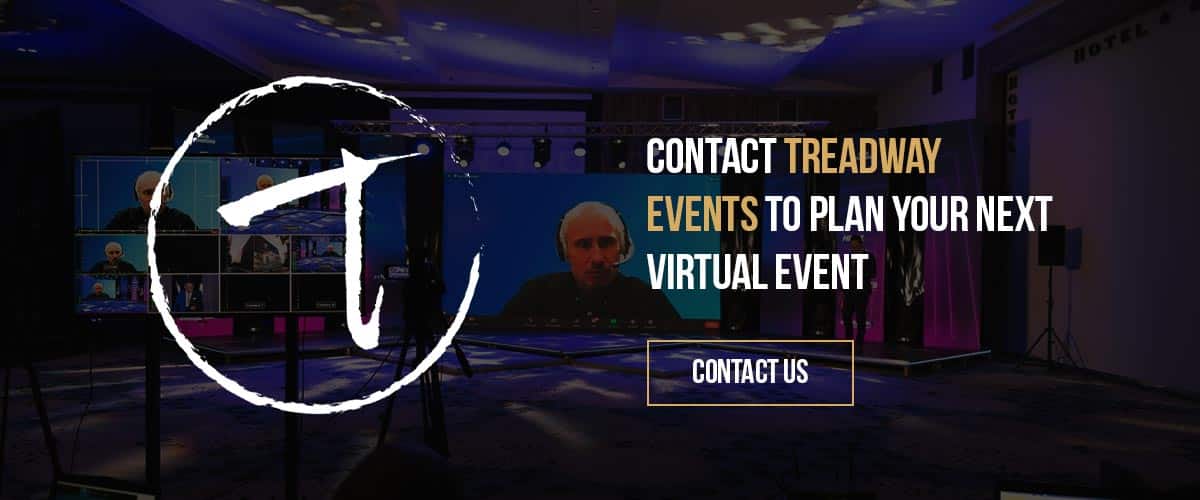 Contact Treadway Events to Plan Your Next Virtual Event
Your team deserves engaging, memorable events that bring them together no matter where they live. Regular virtual events allow teams to bond, collaborate and have fun. With a top-tier event planning service, you can bring next-level events to your team. At Treadway Events, we take the planning, coordinating and communication off your plate so you can focus on your team. We'll work to put on an unforgettable event for you.
Dive into your next event with Treadway Events — contact us online for your free consultation today!