When planning your next big festival, consider developing concrete goals, booking a suitable venue and vendors, using a summer festival event management team and producing effective marketing tactics. Here are some steps for planning your festival you should keep in mind.
1. Develop Your Goals and Plans
Making achievable goals and a concrete plan before your event benefits the success of your festival. Before starting anything, understand what you hope to achieve, such as:
Venue size
Seat capacity
Decorations
Speakers
Activities
Venue types
First, spend time understanding why you want to create the festival in the first place. What is its purpose? What are your reasons for community festival planning? Whether you want to celebrate a grand opening, honor a local hero or gather for a holiday, you can establish clear goals to ensure every team member is prepared for the event's success.
Consider establishing an event outside traditional formats to best appeal to a broader audience. Look at themed festivals, open-air festivals, online activities or different venue formats to help you achieve your unique goals.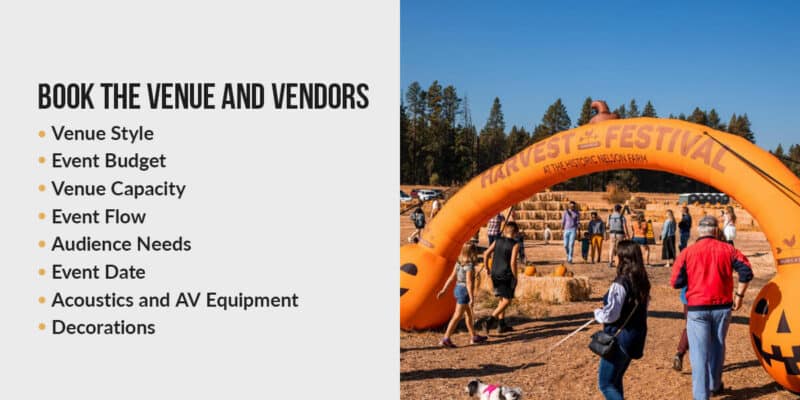 2. Book the Venue and Vendors
You'll want to book the right venue and find effective vendors for your next festival. Consider community and summer festival venues that fit your event needs. Here are a few tips to keep in mind when booking your space and vendors.
Venue Style
What is your festival venue style? Do you want to host in an outdoor garden or within a large exposition hall? Consider how you want the venue to look and what style might fit the festival's needs. It all depends on the type of event and how you want guests to feel.
Event Budget
Consider your budget. How much can you spend on food, rental costs, equipment, parking, accommodations and decorations? Creating an estimated budget helps keep your team in line when solidifying project goals. You can then get quotes and let vendors know what your budget is to see if they can work within your scope.
Venue Capacity
Think about how many people you plan to host at your festival. You'll need an estimated number of attendees to pick the right size venue. Your estimated guest list size will also help you determine other needs, like seating and catering.
Event Flow
The flow of the event space should feel natural rather than crowded or forced. Consider which areas generate the most traffic, such as food and beverage stalls, and optimize the space to reduce bottlenecks. Venue size and guest list will inform what setup is the best.
Audience Needs
When choosing a venue, focus on what the guests might want rather than only what your organization wants to promote. The guest experience is pivotal to the festival's success.
You should also take accessibility and demographics into consideration. What do people need when attending your event? Restrooms, seating, food and drinks, and parking are important aspects to secure vendors or choose the right venue for.
Event Date
If you've found the right vendors for your event, consider the perfect date for your festival. Ask for vendor availability and decide on a date or set of dates that works best for everyone.
Acoustics and AV Equipment
Sound quality can be essential to your festival. Consider what audio and video equipment might be necessary for your festival, from music and ambiance to speakers, performers and entertainment vendors.
Decorations
When choosing your venue, consider how much you'll have to decorate the space. Will the area come with decorations, or will you start from scratch? Consider the cost of decorations, as well, since it will have to be added to your budget. Your purpose and theme will inform how much you decorate and what you decorate with.
3. Build Marketing and Guest Engagement
Focus on marketing your event to the community and promoting guest engagement. There are a few ways to do this, but the most effective tactics include:
Excitement building: Your promotional material and efforts should generate buzz and excitement. Use social media, news outlets and blog posts to generate anticipation for your upcoming festival date or dates.
Entertainment: Know what entertainment your guests might like and cater it to the right audience. Community festivals should offer family-friendly events and activities. Any activities should be relevant and inclusive to your audience.
Experiences: Use immersive and interactive experiences to entice your future guests. Festivals are meant to excite attendees — games, activities and vendors help there. Give guests something to look for before the event even begins.
An event planner: A professional event planner can help plan your marketing and engagement tactics. They will drive more guests to your event through natural buzz and build-up.
Post-event engagement: Your event should stay in guests' minds long after it's over. Send out emails and surveys to assess the success of your festival, and encourage guests to post pictures or videos and tag your organization.
4. Build a Good Team Behind You
One of the best ways to plan your event is through a professional festival management company. Treadway Events has the tools needed to provide services for your next event. Choose what you need and build a strong team of professionals to help bring your vision to life.
Our team of producers can help you bring the pieces together, saving you the time of event planning while fitting your budget needs and increasing the impact on consumers and guests. Treadway Events understands what it takes to make an impactful event for guests, and we can help with decorating or concept development. Our company is based in Portland, Oregon, but we can help you with events based anywhere in the country. Wherever you are, we can offer professional event planning and processing through work with industry partners.
Some of our services include:
Planning and project management: We can help you make emergency plans, keep track of team members, establish deadlines and identify essential goals.
Creative and concept development: Our team members can help brainstorm event ideas and bring your vision to fruition.
Live event production and execution: We can execute your creative vision no matter how large, from backdrops and displays to scenery and sets.
Sponsorships and event marketing: Our team members offer sponsorship opportunities with well-known brands and can create a compelling event marketing plan.
Ancillary event services: We offer other services like graphic and web design, venue sourcing, talent buying, and venue and food service sourcing.
We can produce several types of events, from corporate and nonprofit events to brand experiences, immersive entertainment and consumer festivals.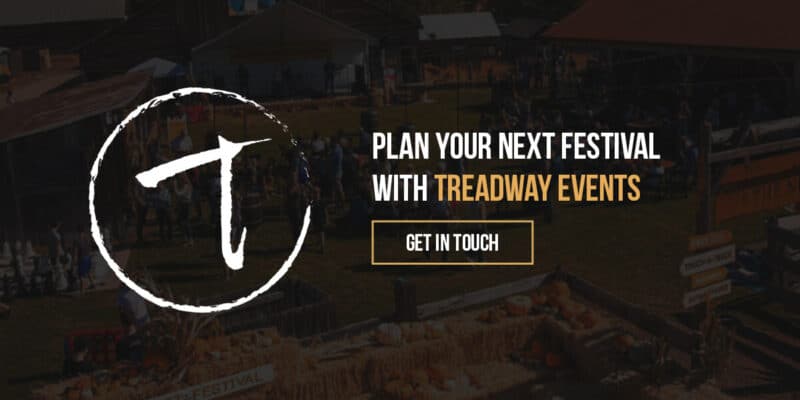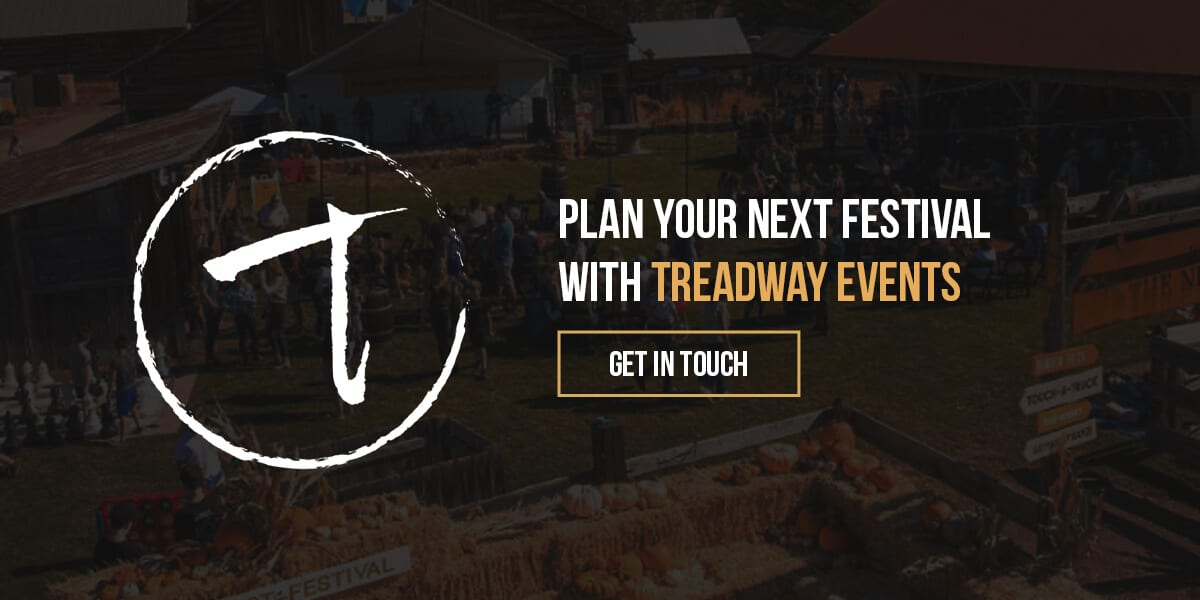 Plan Your Next Festival With Treadway Events
Plan your next festival with help from Treadway Events, a management company for festivals. Our event-planning services fit businesses of all locations and sizes, from Fortune 500 companies to private and consumer brands, nonprofits and small businesses. We'll create the necessary buzz around your event to get consumers and guests to visit from the local area and beyond. We offer full-service support and planning services with unique attractions, concerts, events and activities to fit your needs.
Contact us today to speak to a representative and start planning your next festival!