10 Special Event Planning Tips & Tricks – How to Plan An Event
1. Jump Start Your Event
In order to make your event as successful as possible, get an early start. It's never too early to start planning. Most large events begin planning 4-6 months in advance while smaller events with 50 or less attendees starting 1-2 months in advance. We start planning community festivals and large seasonal attractions 9-10 months in advance.
2. Form An Event Committee
Don't try to do everything yourself. While smaller events can be handled by individuals, we recommend forming a committee to handle certain aspects of the event such as marketing, logistics, sponsorship, volunteer coordination, etc.
3. Use Shared Documents
Use an online document sharing service such as Google Docs or Onehub. Create and store your event timeline here so everyone helping with the event has updated access from anywhere. This is also a great option for collaborating with Google Docs having a comment section.
4. Budget An Expense Contingency
When forming your event budget, add in an expense contingency. Changes will occur and unanticipated expenses will come up. This way, you don't have to cut other parts of your budget down the road.
5. Don't Skip Branding
Make your event stand out. Create an overall theme for your event. Make sure your social media, invitations, email blasts and any other content you produce matches it. If you don't have time to make your own content, hire a graphic designer if you have the budget available. You can create free event graphics and logos online at www.Canva.com. Don't forget an event tagline!
If you don't have the time or resources to plan your event, Treadway Events can assist! Contact us for a free event consultation!
6. Keep In Touch
Don't make your guests ask questions. Schedule attendee emails through your ticketing platform such as www.Ticketleap.com or use www.MailChimp.com to create free email blasts. Tell your guests everything they need to know and keep them up to date as the event draws near or if plans change. This will limit negative backlash online and it'll reduce the amount of emails coming through your inbox so you can keep planning!
7. Triple Check
Create your master to-do list on a shared document site like we suggested above. Make a column stating who's in charge of each task, the completion date and the category. Check your list a minimum of once or twice a week and triple check it 48 hours prior to your event starting to make sure you have all of your bases covered and check in with the task owners to make sure everything is on track.
8. Photograph Everything
When we say photograph everything, we mean everything! Sometimes it helps to even hire two photographers with different styles. You can use images to help promote future events, promote vendors/partners and you can share images of guests for them to share themselves on social media which increases your event exposure. Photographs also help build event credibility!
9. Be Proactive
Don't try to do everything yourself. Work with your vendors and get their ideas and suggestions. Have vendors such as A/V, lighting and rental companies join you on site visits so everyone has a clear picture of the event and what needs to happen.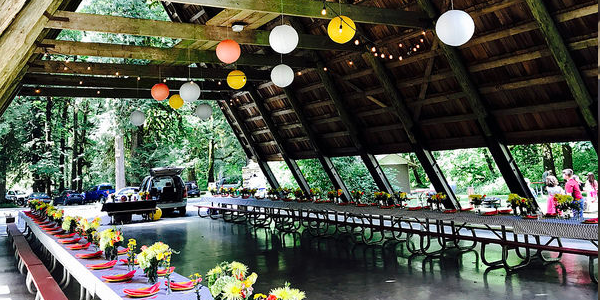 10. Make it Green!
Treadway Events produces a variety of attractions and events that use repurposed materials. Incorporate recycling programs and make sure guests take part. This will help your event stand out even more in the communities your serving and your sponsors will LOVE it.
Don't know where to start? Start with Treadway Events! We will make your special event one to remember. Contact Brandon Treadway today for a free event consultation.