Office holiday parties are back in full swing, and it is clear that holiday party trends for 2023 are giving event planners and businesses an exciting twist on the familiar. More technology, interactive elements and experiential opportunities are just some exciting features.
Business holiday parties allow employees to relax and build connections with coworkers. In 2023, corporate events are shifting focus towards employees and creating valuable in-person experiences. This new focus encourages engagement and finding innovative ways to incorporate elements of wellness, awareness around sustainability and diversity into events.
Popular Trends for Corporate Holiday Parties
Viva Magenta is the color of the year in 2023 and opens the way to cheerful holiday party decoration ideas. Décor in bold color choices like pinks, purples, jewel colors and gold accents for holiday parties is the way to go. As experience-first events are gaining traction, some interesting themes are emerging. Here are some
Technology: This year, event experiences are on a different level with audio-visual elements. Expect projection mapping, immersive audio and pyrotechnics at more significant events.
Décor: Theme-centered design extends into activities and fare. Holiday trends for 2023 include more custom branding incorporated into décor and monochromatic designs.
Catering: Menu options offer more variety as events become more inclusive. Vegan, vegetarian and gluten-free food are some examples to look forward to.
Gifting: Organizations are turning to experiential gifting for employees this year.
Invitations: Corporations are turning to eco-friendly digital event invitations, simplifying the RSVP process for event planners.
Entertainment: 2023 is the year of gamification at corporate events, encouraging teamwork as participants hone their problem-solving skills through interactive games.
Venue: Unique venues leave a lasting impression on guests and encourage attendance. Even transforming an existing office space into something unexpected can create an incredible experience for attendees.
Hybrid events: By combining in-person events and online components, employees from around the globe can attend corporate holiday parties and connect with peers from various locations.
Preparing for Corporate Holiday Parties
Company holiday celebrations are more than a tradition. They create moments of authentic connection between employees. Successful corporate holiday parties focus on creating an engaging atmosphere where the team can unwind, connect and celebrate the year's successes together. These stellar events also allow organizations to show employees their gratitude and foster fellowship among staff.
There are many event ideas for holidays, but understanding the unique corporate culture of a company is the first step in preparing for an office function. Some teams appreciate a formal dinner, while others thrive on experience and informal opportunities to get to know one another. Once you understand your corporate culture, you can start checking off other items on the list:
Set a date: Select a date that fits most employees' calendars, considering religious or cultural holidays.
Event goals: Decide on the outcome of any entertainment at the party. Activities that create an opportunity for colleagues to bond will also help to improve a team's communication skills.
Establish a budget: The budget will cover the venue, entertainment, refreshments, gifts and transportation.
Choose the party type: Decide whether the event will be formal, informal or a corporate retreat.
Pick a professional party planner: Planning holiday parties for a business is time-consuming, so hire a professional event planner to make the most out of the affair.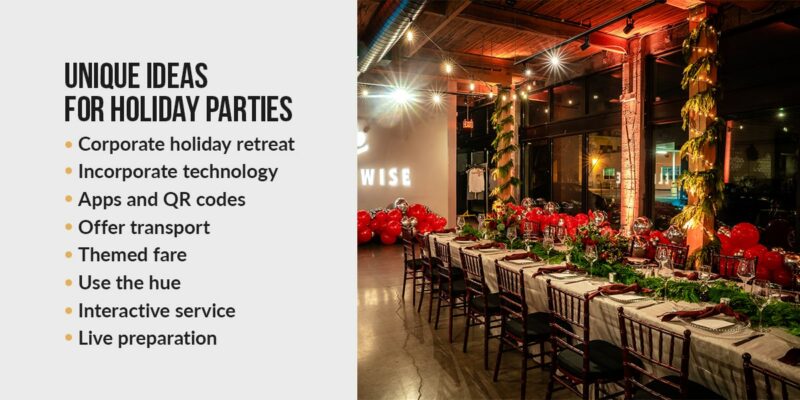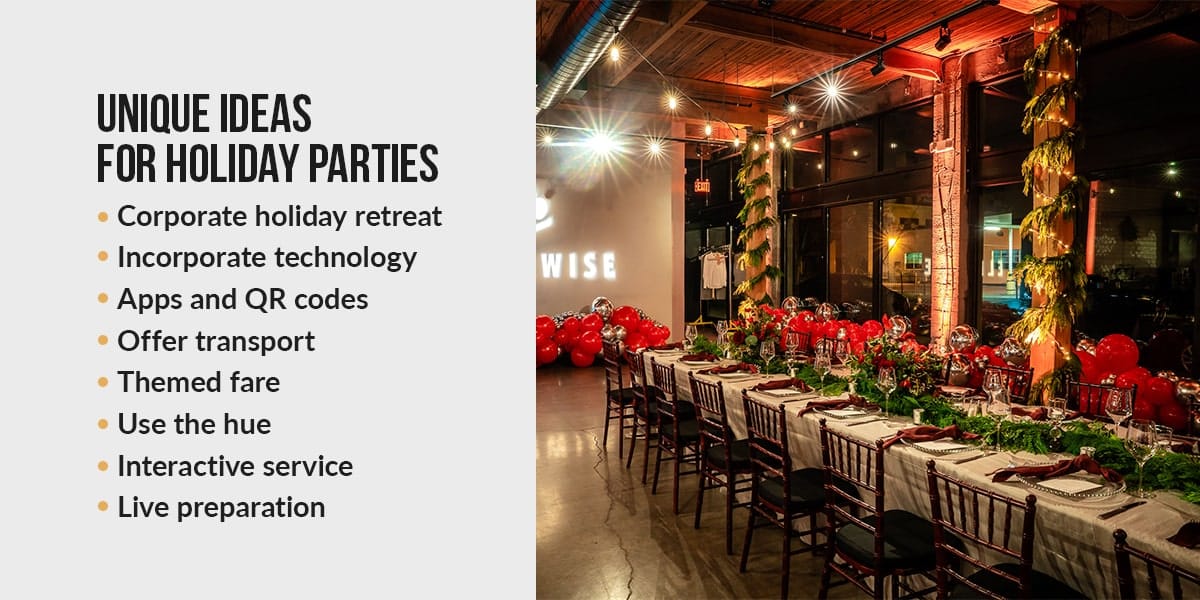 Unique Ideas for Holiday Parties
2023 trends are setting the stage for out-of-the-box motifs and adding innovation to holiday parties. There are many holiday party themes in 2023 to consider, whether it is exciting holiday party themes, event ideas or an all-inclusive corporate holiday retreat planning. Creative themes, charitable events and other team-building activities allow employees to form memorable connections and boost company morale.
Corporate holiday retreat: Planning a getaway for your staff will allow them to get to know their team in a relaxed environment that facilitates bonding and corporate planning.
Incorporate technology: Use audio-visual effects to create a party theme around arcade games. Incorporate interactive entertainment and wall projections.
Apps and QR codes: Offer attendees an app or strategically placed QR codes to help them navigate the event, select menu preferences and order a ride home.
Offer transport: Include transport costs in the event budget to ensure employees safely arrive and leave the party.
Themed fare: Plan the food and drinks around the party theme, like serving hors d'oeuvres on a clipboard for a classic office theme.
Use the hue: Use the monochrome trend and the brand's primary colorway in most party décor.
Interactive service: Swap regular waiting staff with on-theme performers to deliver fare to staff.
Live preparation: Let attendees see food preparation or have them partake in preparing certain menu items.
Creating Virtual Events for Holiday Parties
As more businesses employ remote workers and inclusion quickly becomes an essential element of corporate culture, hybrid and virtual events are rising. Virtual events are a huge success for companies taking the time to keep online attendees engaged throughout the event.
Including remote workers extends beyond simply sending them a link they can click to join, thanks to a party-in-a-box trend. Remote employees enjoy all the perks of in-person events by receiving some fare, drinks, corporate gifts and activities in a package that arrives at their location before the party starts.
Virtual events can join in on the gamification trend with these ideas:
Virtual escape room: Online escape rooms are a fun activity that challenges employees to use communication and teamwork.
Online trivia: Encourage engagement before the fun starts by allowing employees to vote on the topic beforehand.
Paint 'n sip: Include some art supplies in the party-in-a-box and have someone guide employees in a painting session.
Virtual tasting party: This is perfect for an office Christmas party plan. Send attendees various hot chocolate flavors to taste in a guided online tasting session.
Virtual karaoke: Bring a classic office party staple to life in an online event.
Holiday party bingo: Bingo is an excellent icebreaker that offers employees a fun way to engage at an online event.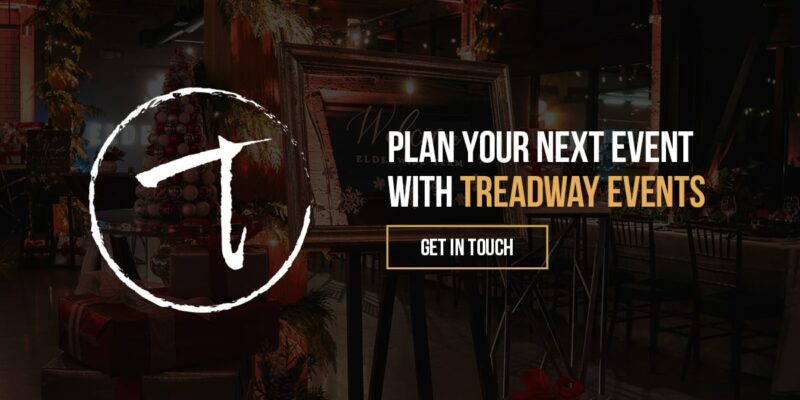 Plan Your Next Event With Treadway Events
2023 offers many intriguing trends that give corporate events a wow factor, ranging from gamification to striking pops of color. Give your team the most engaging, memorable office party imaginable by working with a professional holiday work party planner in Portland, Oregon, and Seattle, Washington. Treadway Events is your full-service event planning agency. We take ownership of the planning, coordination and communication so you can enjoy the party with your team.
Let us create an event that will leave your team in awe — contact our team to start planning your next event today!