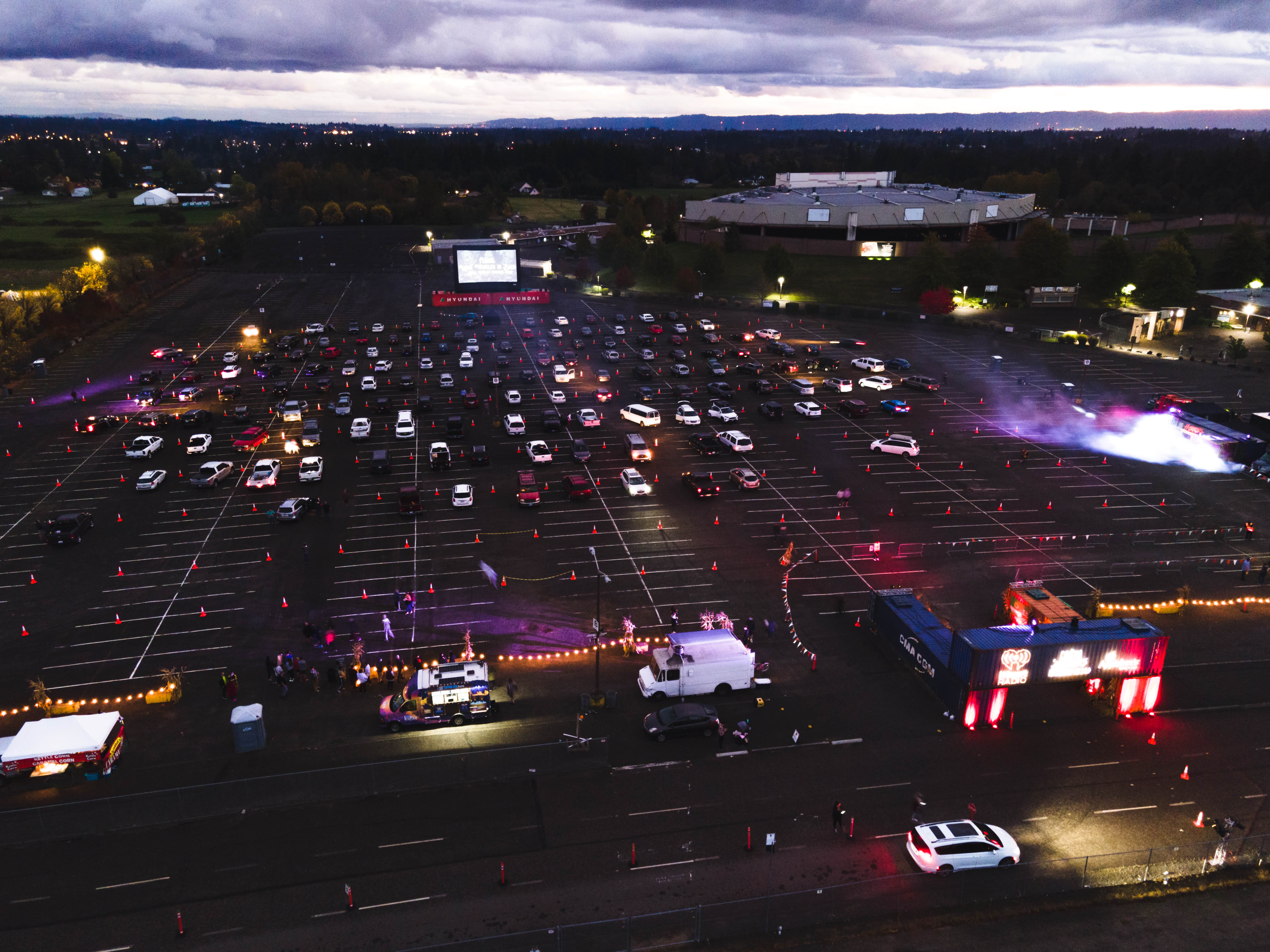 Drive-In Event Planning and Production in Oregon, Washington & Beyond
In the 1950s and 1960s, drive-in movie theaters were some of the hottest spots in town. While they're less common today, these theaters still draw a crowd as they engage guests with a sense of nostalgia and novelty. You can capitalize on the popularity of these out-of-the-box events by planning your own drive-in movie or other production with help from Treadway Events and Entertainment.
At Treadway, we're dedicated to helping you create unmissable events that immerse your guests in a unique experience, and what better way to do that than to host a special drive-in event? Allow your guests to enjoy entertainment from the comfort of their own car, and let Treadway take care of all the planning, details and execution.
Types of Drive-In Events
With Treadway Events, you can plan a wide variety of drive-in-style events that help you stand out from the crowd. Teaming up with Treadway Events gives you the expertise of a seasoned drive-in event planning company to work out the logistics and plan an extraordinary event.
Our vast network of vendors includes caterers, rental companies and marketing agencies, along with specialized connections and equipment specifically tailored to exciting drive-in events, like 40-foot inflatable screens, generators, cables and projectors. We can also spice up your event with extras like CO2 cannons, pyrotechnics, firebreathers, LED stilt walkers and more.
Drive-In Concerts
Drive-in concerts are a new phenomenon springing up as we find new ways to enjoy entertainment. These shows allow guests to embrace the thrill of a live musical performance from the comfort and safety of their own car.
Jump on board with this new trend when you host your own drive-in concert performance with Treadway Events. Our drive-in show production team will help you find a venue, book your live acts and get the word out about your event to attract a crowd.
Drive-In Fundraising Events
A drive-in fundraiser is a one-of-a-kind opportunity that gives your guests an exciting experience while encouraging them to raise funds. Whether you choose to screen a movie relevant to your cause or host a live drive-in show production, this innovative fundraising event is sure to attract donors.
Your team at Treadway has years of experience planning fundraisers that make the most of your budget, giving your guest a memorable event while ensuring you raise money and awareness for your favorite cause.
Drive-In Movies
You can hold a classic drive-in movie event with a nostalgic theme or turn your movie screening into an immersive event with additional elements, like live actors to interact with guests or meal delivery services that treat your guests to delicious in-car meals.
40′ to 60′ Inflatable & 4k Screens

Venue Selection & Booking

Print & Digital Marketing

Sponsor & Partnership Procurement
Parking Lot Cleaning & Sanitization

All Generators, Projectors & Cable Management

Heath Screened Staff & On-Site Managers

Parking & Logistics Management

Vendor Coordination (Rentals, Catering, Entertainment, Photography, Lighting, etc.)
Contact Treadway Events to Start Planning Your Drive-In Event in Oregon or Washington
Treadway Events is a full-service drive-in event planning team serving Oregon, Washington and beyond. Our job is to help make your job easier — we provide a stress-free event planning process that results in spectacular drive-in events. We're with you every step of the way, from your initial event brainstorming sessions and budgeting to day-of coordination, setup and takedown.
If you're ready to start planning your next drive-in event production, get in touch with our team at Treadway! We'll begin with a free consultation to discuss how we can bring your ideas to life.
This was our organization's first event, and I'm a hands-on person; I could have given the team more to do for us. But we were pleased with the company's marketing and social media efforts for us–polished and great quality!
Treadway Events helped with the Taste of Parkrose 2018. Brandon and his crew helped the event run smoothly, and planning the event was much less stressful with them around. Event set-up, promotions, vendor coordination, etc.–Great service at a great price. We look forward to working with Brandon in the future.
"We partnered with Treadway Events for a promotional holiday event. Very professional, well priced and great service!"