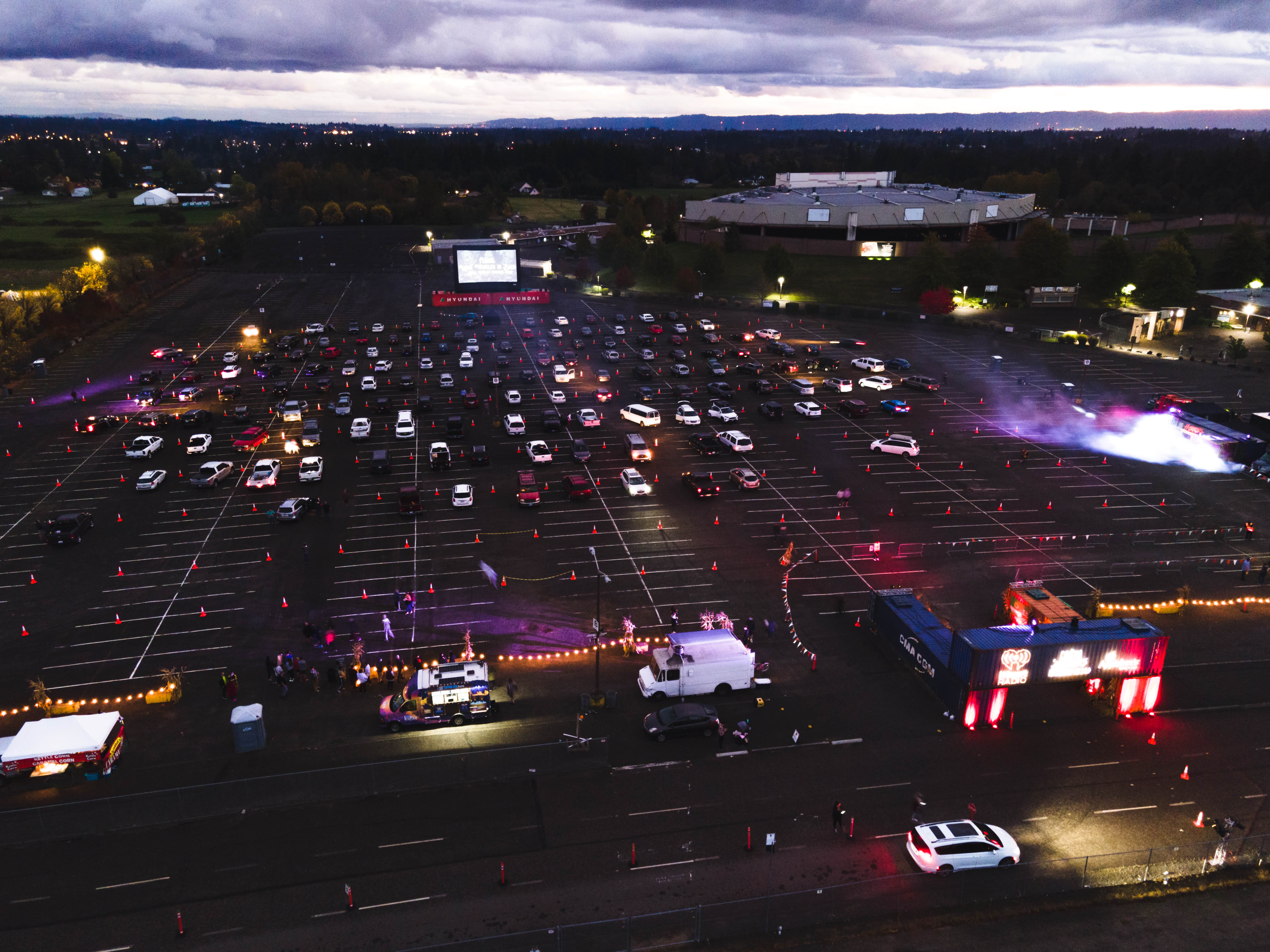 Drive-In Event Planning & Production
Treadway Events provides professional drive-in events planning for businesses and organizations of all sizes nationwide. Work with us to turn your annual fundraiser, gala, movie premiere, awards ceremony, employee appreciation event, or other special events into a themed, drive-in experience. Have your staff been working remotely since the pandemic started? Host a drive-in Christmas celebration to reward them and allow them to reconnect from a car length away from each other.
We recently worked with the Cinema of Horrors to convert their annual walk-through haunted house into a drive-in Halloween experience that knocked guest expectations out of the park. The event attracted 3,400 families and sold out within three weeks of promotion. Read more about it here.
Treadway Events handles your entire drive-in event from start to finish, and you retain the in-person connection your guests love. We understand the logistics of drive-in events and know how to pack them in and get them out efficiently. We can provide all A/V components–from forty-foot movie screens to FM transmitters and external speakers.
Pivot your special event! When you work with Treadway Events, you receive top-notch communication and a stress-free planning experience. We utilize our vast network of caterers, rental companies, marketing agencies, and more to get you the best bang for your buck.
WE ENSURE OUR DRIVE-IN EXPERIENCES ABIDE BY ALL STATE COVID-19 REGULATION.
40′ to 60′ Inflatable & 4k Screens

Venue Selection & Booking

Print & Digital Marketing

Sponsor & Partnership Procurement
Parking Lot Cleaning & Sanitization

All Generators, Projectors & Cable Management

Heath Screened Staff & On-Site Managers

Parking & Logistics Management

Vendor Coordination (Rentals, Catering, Entertainment, Photography, Lighting, etc.)
We'll Make Your Drive-In Stand Out
Create a pre-recorded performance or feature onsite, live performances to blow your guest's expectations away! Add the following to your drive-in events:
Fire Breathers/Performers

Meal Services – Delivered To Guests Car Doors
This was our organization's first event, and I'm a hands-on person; I could have given the team more to do for us. But we were pleased with the company's marketing and social media efforts for us–polished and great quality!
Treadway Events helped with the Taste of Parkrose 2018. Brandon and his crew helped the event run smoothly, and planning the event was much less stressful with them around. Event set-up, promotions, vendor coordination, etc.–Great service at a great price. We look forward to working with Brandon in the future.
"We partnered with Treadway Events for a promotional holiday event. Very professional, well priced and great service!"