Promotional events build excitement for upcoming products or services. They can boost audience and employee engagement and attract new customers to your brand. Live events let visitors experience your product and brand more closely, encouraging customer loyalty.
You can choose from a wide range of options for your promotional event. Selecting ideas that align with your audience's interests and buying motivations is important. If you need help planning your event, here are four event promotion ideas that can drive optimal results:
1. Keynote Speaker Event
You can build a promotional event around a keynote speaker. The designated speaker presents a speech to your audience, usually about a related topic or experience. The presentation sets the tone for the entire event, creating a cohesive theme. Keynote speakers can build excitement for your event, especially if they are well-known names.
Event planners should brainstorm and contact potential speakers well in advance to ensure they can make the event. During this time, planners also discuss fees. Presenters usually charge a certain amount for their appearance, raising the program's total cost. Your company should choose a speaker that generates excitement for your business and whose price range fits within your budget.
These are a few ideas for your keynote speaker:
Celebrity speaker: Inviting a famous name can bring more attendees to your event. You might invite a famous athlete, actor, author or other celebrity that excites people. You can advise the speaker on which topics to focus on or let them build an original speech. Celebrities might charge more for their time, so it's crucial to consider your budget before selecting someone.
Motivational presenter: Many companies hire motivational speakers to present at promotional events. These speakers engage the crowd and lift energy levels, making them more excited about your company's services. It's also helpful if their speech relates to your product or service.
Industry leader: Industry experts can also inspire more people to attend your event. These speakers have significant expertise in your field and can provide key insights for success. They can also provide perspective on current industry trends and give advice for the future.
Entertainment professional: If you want to keep your event as exciting as possible, you could hire an entertainment professional as your keynote speaker. They might tell jokes, interact with the audience, use music or many other tactics to engage audience members.
2. Carnival Event
Another option for your promotional event is a carnival. Carnival-themed celebrations attract visitors of all ages, making them ideal for promoting products for kids or younger audiences. They build a festive atmosphere where customers can engage in games and activities. Carnivals can also become community-wide events where everyone can have fun together. If customers associate the event with your brand, their perception of your company improves.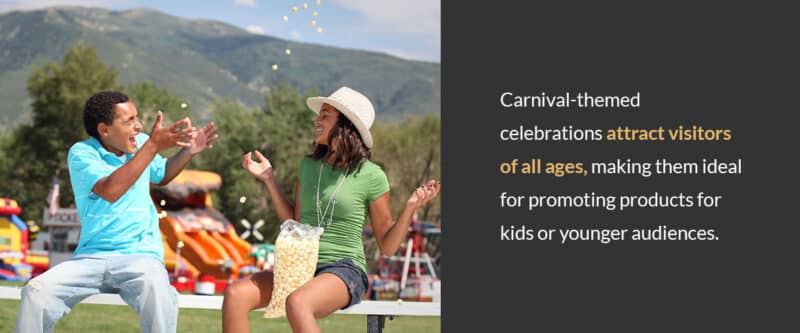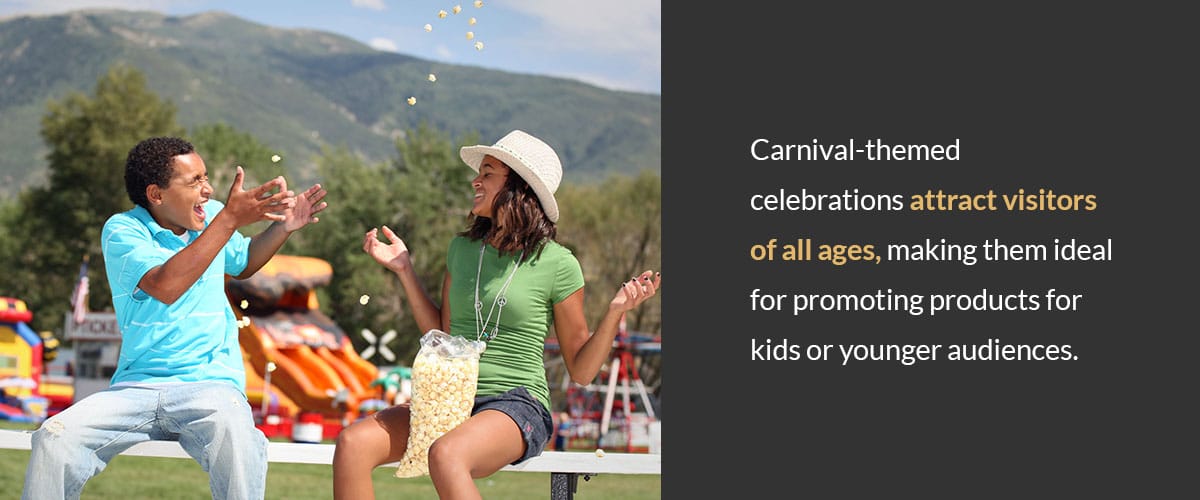 You could feature activities like:
Face-painting
Balloon-making
Carnival games
Or, provide carnival food like:
Cotton candy
 Hot dogs
Funnel cake
Sno-cones
You can also set up booths to promote your brand's products and services. Customers can explore your product offerings and ask questions during the event, which builds brand awareness.
Carnivals require additional planning, so it's essential to prepare for them as soon as possible. The sooner you start, the more time you have for advertising and preparing the event.
You could work with local vendors to set up food and game booths or hire external catering services. Professional event planners can also help you build the carnival's design and suggest ideas for improvement.
3. Cook-Off
A cook-off is another great example of a community-wide promotional event. These competitions encourage people to cook a specific dish, then bring them to the event. Judges and visitors taste each prepared dish and vote for which is best. For instance, participants might prepare chili, apple pie, guacamole, soup or another popular food item.
You could limit participants to just company employees, then invite the entire community to attend the event and taste dishes. Or, you could open the event to all community members to increase participation.
These are a few other important considerations for cook-offs:
Setting a date: You should pick the official date for your event well in advance. That way, participants have enough time to gather ingredients and practice preparing the dish. Visitors also have time to fit the event into their schedules. The more advanced notice you give people, the more likely they can attend.
Advertising: It's vital to advertise the cook-off to increase the number of attendees. Your company can use emails, flyers, posters, social media posts and more to spread the word. You could also include information about your company and related products to boost brand awareness.
Picking prizes: Make sure to select exciting prizes for the cook-off winner. A reward motivates more people to get involved, increasing audience engagement. You might have rewards for first, second and third-place winners or just for the top winner. They could be anything from paid vacations to restaurant gift cards. The more it aligns with your audience's interests, the better.
Promoting your brand: Consider how you can promote your business at the cook-off. Whether you set up a booth to display products or hand out informational flyers, this event is a perfect opportunity to discuss your brand with visitors.
4. Donation Drive
Donation drives are excellent ways to support your community and increase brand awareness. You can select a date and encourage visitors to donate items for a specific cause. For example, you might host a donation drive for:
School supplies: In the months leading up to the new school year, school supply drives are helpful for students in need. You could ask for supplies like pencils, paper, crayons, markers, backpacks, lunch boxes and more.
Baby products: These events support parents by collecting baby bottles, formula, infant clothing, small toys and other related items.
Food: Food drives are always helpful and needed for communities. You could partner with a local food bank and gather donations of non-perishable foods.
Clothing: A clothing drive encourages gently-used clothing donations for underserved populations.
Holiday gift drive: When the holidays come around, you might host a drive to donate gifts for kids in need.
It's also helpful to align your event with your business's products or services. For instance, if you sell apparel, a clothing drive could promote your business while giving back to the community.
Contact Treadway Events for Your Event Promotion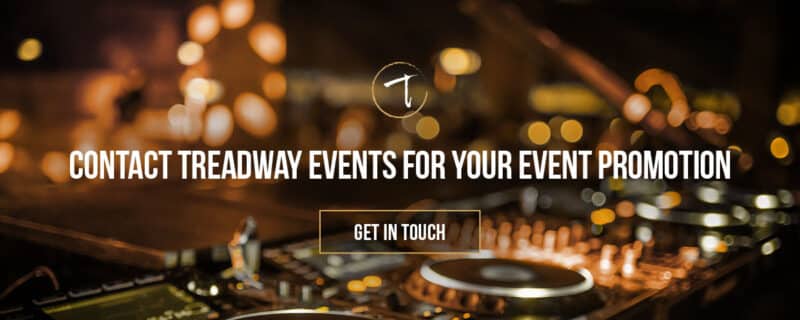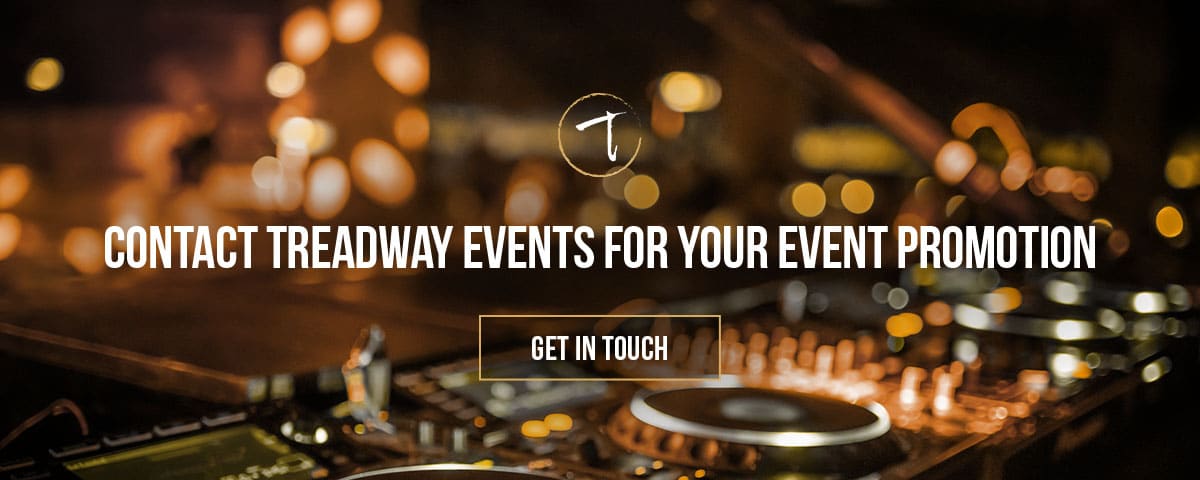 If you're planning a promotional event, contact Treadway Events today. We're a full-service event planning agency with experience helping clients from a wide range of industries. Our team assists you through every step of event planning, from selecting your design to building backup plans in case of emergencies.
No matter your type of promotional event, we combine creative solutions and problem-solving to build immersive experiences. We understand the importance of proper marketing and how it impacts your brand image. Our team members work closely with you to understand your business goals and advertising intentions.
We can help you bring your event vision to life. Contact Treadway Events to get started.